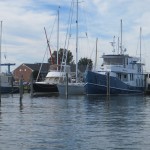 We have some very good friends who live on Maryland's eastern shore. Whenever we are in the D.C. area they always come see us, which results in  packing three children in the car and roughly three hours of driving to meet us somewhere the kids are sure to be bored to tears. Last weekend, we went to see them since we thought it would be easier. It turned into an amazingly fun day.After we had lunch, which is always an adventure with an 8, 6 and 4 year old, we went out on their boat. The sole purpose of this outing was to get ice cream. It's not that we couldn't get to the ice cream place by car, it was just more interesting to get there via the water. As we were heading out, the tides seemed to be changing, resulting in a more interesting ride out than back. Nonetheless, it was an easy forty minute ride, with a four year old screaming "Daaaaaaaaaaad, let's go super-fast" (the whole way) and Dad obliging (part of the way).
We got a tour of the area in the process and even found a spot to easily dock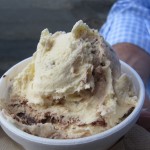 the boat upon arrival. Once on the dock, we made a beeline for Scottish Highland Creamery, the popular ice cream place. They have an assortment of sorbets and ice creams, with flavors like 4th of July, a marscapone ice cream with blueberry pie filling and rasperries (a little fruity for me) or Biscotto, with pieces of cookie and chocolate (much more my speed). It is not so often that you see a mango sorbet, but it was light and delicious and tasted like eating a mango, only better.
Hanging out with these friends is always fun, and we really don't get to see them too often, so this was a big treat for me.