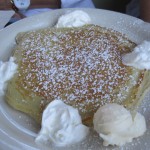 Nothing says happy birthday like a good breakfast. So, when in Lancaster for a wedding, we were also celebrating my mother-in-law's birthday and started the day off at Ida's Cafe. Like my sister-in-law so astutely observed: a restaurant has to be good if they can close by 2 PM.
We arrived to be told we would have a 10-15  minute wait. A quick five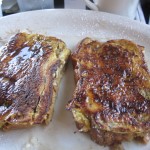 minutes later we were seated and pondering the many choices. They have a good selection of omelets, many kinds of French Toast (banana walnut would have been my choice, but not so much Florida Keys Guy's choice), pancakes available in a variety of stack sizes and sandwiches galore.
I had a mushroom and cheddar omelet, which was cooked to perfection. It was thin and even, so there were no thick, undercooked parts and were served with incredibly good (read: crispy and well done) potatoes. Amongst the four of us, we also had the cinnamon bread French toast, a single pancake, scrambled eggs and smoked salmon Eggs Benedict with spinach.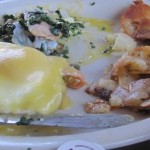 The cinnamon bread French Toast was not overly sweet. It was just the right amount of cinnamon to the gobs or syrup – the real kind – I poured on. The syrup was served warm. It's like being on Seabourn again, and that is never a bad thing. The pancake was light and fluffy and served with real, fresh whipped cream (I had to pass on the whipped stuff at Friendly's for the lack of real cream involved). It is a good thing my personal trainer doesn't know just how much I love whipped cream.
We ate, a lot, and left Ida's full, maybe even stuffed, and happy. I loved it, but I think it might be a dangerous place to have nearby. It does make me look forward to my next Lancaster visit.