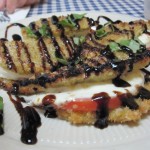 Tucked into an unassuming strip mall in Pompano Beach is Cafe La Buca, a tiny, 4 table Italian restaurant. It is a really tacky room with bad lighting. They have no liquor license, so it is strictly BYO here, a feature that I appreciate. They also have no menu, rather they make whatever they feel like, and discuss your options with you before ordering.We arrived for our 8:45 reservation to find all tables booked. There was one table lingering over wine at a table which was clearly earmarked for us. After we were waiting for about ten minutes, one of the owners went over and asked them to leave, as she had another party waiting for that table. I was not optimistic about how this would turn out. After all, if I was lingering over a glass of wine, I certainly would not want to be asked to leave.
We eventually sat at the recently vacated table and were brought a basket of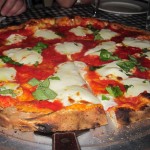 freshly baked bread (really pizza dough in the shape of little pillows). It was delicious. We ordered an eggplant caprese, which was good, although the eggplant was quite greasy.
Next up was a pasta course: "How about some pasta?" asks the owner.  "Do you have pesto?" I ask ogling the next table's green sauce. "No. No more pesto" and he runs through some choices that we can get. We settled on papardelle, which were clearly homemade and cooked perfectly.
Finally, Marco comes back and decides that we need some meat. After two courses we were getting a bit full and nobody at the table could stomach something heavy. We opted for a brick oven pizza, which turned out to be a great idea. Crispy and delicious, it was a good pie.
Overall, La Buca is fun, if kitschy. It reminded me of La Mela, in New York with it's no-menu-get-whatever-we-have attitude. Here, however, the food was much better. Would I go again? Sure, but I wouldn't go out of my way. The food is good, the service is surly and it is in a really inconvenient (for me) location.