Boondocks is one of those places I always drive by, but don't stop at because it is generally inconvenient to where I am going: Key West. Located at Mile Marker 27.5, it is generally further than I am willing to go when there is an event there, or I am in the neighborhood at the wrong times. Last week, a friend and I were driving by at lunchtime and decided to stop in.
The setting is lovely – essentially a large tiki hut with a huge bar. There is the popular mini-golf for the kids, or adults who have spent too much time at the bar, and there is a large menu filled with what-you-would-expect bar food and a few surprises.
Among the surprises: big, fresh salads. OK, so the Cobb salad was served with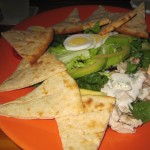 avocado that was not quite ripe, and upon complaint, we received additional avocado that was only slightly riper than the first. But the salad was loaded with chicken, fresh veggies and served with (our choice) a coconut ranch dressing. It sounded to me like tropical gone wrong, but as it turned out, the salad dressing was superb – more coconut-y and less ranch-y.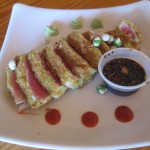 We also had the wasabi encrusted, panko coated tuna, which was wonderful. I was surprised by the good food – salad and seared tuna are not the usual bar food, so I thought they were kind of risky orders. But the tuna was seasoned perfectly and served with both siracha and wasabi on the plate. As if that weren't enough to clear out your sinuses, there were some wasabi peas topping off the whole dish.
Here is my pet peeve about the avocado thing: if they are not ripe, don't serve them. It's like when you go to a restaurant and order a salad only to get limp, pink, tasteless tomatoes. Just don't serve them. Say you are out of avocado/tomato/whatever ingredient is not good, and stick something else on the salad. Trust me on this: the dining public would rather have good quality ingredients than a sad, lifeless tomato just because that is what is listed on the menu.
Overall, service was fine. We sat at the bar and service was friendly. Would I go back? Sure, if I was in the neighborhood. I don't think I would drive half an hour out of my way, though, just for really the really good tuna.