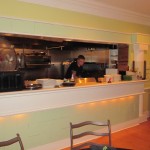 After our epic failure at Ambrosia, we headed over to The Upper Deck at Louie's Backyard. The Upper Deck is upstairs (duh) and serves tapas-style food and a good selection of wines by the glass. As it was after 9PM, and they close at 10PM, we arrived to a nearly empty room, but welcoming smiles, and chose a table on the balcony. The menu at The Upper Deck is small, but well chosen. From beef carpaccio with truffle oil to roasted vegetables with harissa and almonds, the fifteen or so menu items offer something for everyone. That is hard to do on such a small menu.
French fries are usually just a side dish and don't get their own spot on menus. But here they do, and they are crisp, potato-y treats, laced with truffle oil and served with a bowl of Fontina fondue. They do not suck, and I plan on eating them as often as possible (note to Louie's staff: please forewarn me if you are out of them and I will come back another day). The pizzas are also delicious, and come in three varieties: Fontina and mixed mushrooms, duck confit with mango mustarda, and tomato, basil and mozzarella. Each are ample sharing size and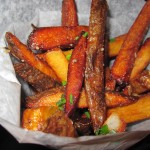 are perfectly crisp and tasty.
The portions are all small and are meant to be shared, but the prices are easy to stomach, topping out at $18 for the three cheese flight, with most items around $12.
The selection of wine by the glass (or bottle) is also good. I am curious to see if this small-but-well-thought-out-list changes frequently (as one would hope) or if we are stuck with the same choices all the time. Perhaps a Louie's person can chime in here with a comment? The stemware is very good and the pours are generous. We had a La Crema Chardonnay (when we ordered a Cloudy Bay Sauvignon Blanc), which was pretty good, if over-oaked for my tastes; a glass of Ferrier Sauvignon Blanc /Semillon blend from California, and I loved it's crisp-yet-fruity quality; Benton Lane Pinot Noir from Oregon, always a solid choice; and a Bhueler Zinfandel, which was a big, bold bit of jammy goodness.
Overall, The Upper Deck is a great place for a meal. It seems like it would be inexpensive (especially compared to the main dining room at Louie's) but if you eat a lot and have some wine, the tab will creep up. Nonetheless, it is a great find and completely worthwhile. I am looking forward to my return visit already.