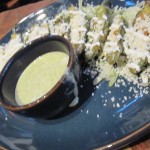 I was excited to try Rocco's Tacos on Las Olas Boulevard when my cousin was in town earlier in the week. We went for lunch, and I was working that day, so I can't comment firsthand on the margaritas. We did find it funny, however, that "Taco Tuesday" advertisements mentioned $15 pitchers of tequila. We assume they meant tequila drinks, as I'm not sure how appealing it is,  or how many friends you would need to drink the pitcher of straight up tequila.
The atmosphere is Cheesecake Factory meets taco stand, in that it is nothing special and not very interesting. On each table there is a mortar and pestle, presumably for the make-at-your-table guacamole (we didn't have that). Instead we opted for the jalapenos rellenos, which were awesome. They were not greasy and presented cut in half with a cilantro lime sauce on the side. Delicious. My one complaint is this: if I am eating a jalapeno, I expect it to be a little spicy. Instead, here I needed to add hot sauce.
I also ordered a taco platter with a mushroom taco and a blackened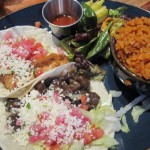 mahi-mahi taco. After my underwhelming taco at point 5 over the weekend, I wanted a good one. That didn't happen – this one was dry and again, not bad, but certainly not something I would order again. The mushroom taco, on the other hand, was bursting with flavor and muy delicioso. I could eat that one again and again and again. Sadly, the accompanying rice was bland as well.
Service was good, my iced tea was refilled as needed, and it was friendly. I hear that there are often hour-long waits in the evening, and honestly, I can't figure out why. Maybe it is the pitcher of tequila.
Would I go back? That is always the question. I would, but I would avoid the fish tacos and stick to the seemingly odd, yet delicious mushroom tacos.
Have you been there? What do you think? Leave a comment and let me know.