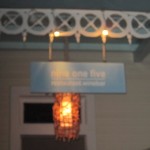 Key West is a funny town. You can drink until the wee hours of the morning, but try to get a good meal late at night and you are pretty much out of luck. Let me clarify: by "decent meal" I mean one that is served (not a walk-up counter or take-out), cooked to order and not served in a loud bar where most people are only drinking. Yes, you can get good food at some of those places, but that is not what I am after. Most restaurants in Key West close about 10:00 PM on the weekends. After a great evening of Short Attention Span Theater, we headed to Nine One Five's upstairs lounge, Point 5, as it always seems to be busy on the later side.
We were seated on the porch with spectacular people watching along Duval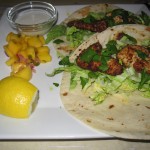 Street, and ordered a bottle of wine from the extensive list. The Alavaro Palacios Placet, a white Rioja, was just wonderful, and at $45 it was a bit overpriced on the list (compared with an $16-18 retail price), but was quite good nonetheless.
The menu upstairs at point 5 is small, but varied. While the fish tacos were only OK, although the mango salsa was yummy; the mac n' cheese looked good, and the Vietnamese lettuce wraps were quite good. Service was fine until the end of the meal.
Our waitress dropped off dessert menus and then disappeared for a while. This was fine by me, as we were finishing the wine and generally having a relaxing evening. Upon her return, we had the following conversation:
Waitress: Would you like anything for dessert?
Me: Yes, I'd like the cheese plate, please
Waitress: Oh, sorry the kitchen is closed. Here is your check.
So, there are several ways this scenario could have played out better. One, she could have left the menu and said "I'm sorry but the kitchen is closing in a few minutes, if you would like anything else I need to put the order in now." Two, she could have come over and explained that she could not offer any desserts this evening because the kitchen was already closed. Pretty much any scenario would have been better than "Oh, you want dessert? Too bad".
This was the first time I have been to Nine One Five, and it seems it will be the last. I'd love to hear your thoughts on the place, your experience or mine.