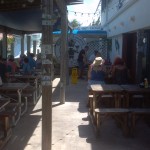 I had the rare opportunity to be traveling early in the day last week, which left me hungry and needing lunch on the drive from the mainland to Key West. But where to go? It had to be someplace with outdoor seating that allows dogs. Plus, I wanted somewhere with table service. I was not in the mood for DIY, so that eliminated the obvious choice of Keys Fisheries.  We chose Sparky's Landing on Key Colony Beach.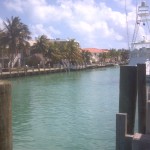 The setting at Sparky's is beautiful. Right on the water with pelicans diving just a few feet away, the sun was shining and the weather was perfect. The menu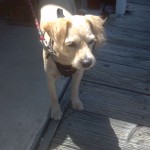 is huge. They have everything from fish tacos to salads, pizzas and more. We opted for the "Freuben", a fish Reuben sandwich and the gratinee appetizer.
Sparky's was very busy when we got there, and I see why. Although the food was slow coming out of the kitchen, it was quite good. The "Freuben" we ordered blackened and although we ordered it with the Russian dressing on the side, it came with no dressing and no cole slaw. So, essentially, it was blackened mahi mahi and Swiss cheese on rye. Although it was missing the slaw, it was a really good sandwich. The fish was perfectly cooked, the rye added bite and you really can't go wrong with the side of fries.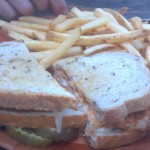 We also ordered the gratinee, an appetizer described as "bite sized fish of the day sautéed with mushrooms in a sherry cream sauce and smothered in mozzarella cheese served with grilled garlic bread for dipping." They had me at sherry cream sauce. It took a while to make its way to our table, but it was totally worth the wait. As an appetizer, it is gigantic, but at $12.99 it is one of the pricier items on the menu, aside from the entrees, so we assumed it would be large. We were right. it was big, and filling (see the part about "cream sauce" and "cheese" and "garlic bread").  The fresh bites of mahi were swimming (doing the backstroke) in a pool of creamy, cheesy goodness. The garlic bread, although excessive, was really good and helped to soak up all of the sauce – as if I needed to eat even more cream. I loved every luscious bite.
I am already looking forward to my next trip to Sparky's to suck down more of that yummy gratinee. Perhaps I would try something
else, too. I will need to go with a large group next time so we can try several of the delicious sounding items.
Sparky's Landing is located at the end of Charter Boat Row at KCB Marina, off US1 at mile marker 53.5, ocean side.