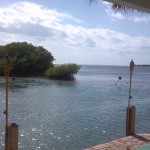 Last week, to kick of Eating Key West weekend (which, much to my dismay, was not a universally celebrated event), we stopped at Geiger Key Marina & Smokehouse for lunch. While we missed the Sunday B-B-Q day, we did enjoy a wonderful lunch there. Located on Big Coppitt key, at mile marker 10, Geiger Key Marina is a little hard to find, and by "hard to find" I mean "a little way off the main road, so watch for signs". it is well worth the minimal effort it takes to find.
We chose Geiger Key largely because we were with Babka and knew she would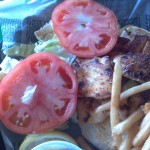 be allowed. She was welcomed with a bowl of water, while the rest of us indulged in iced tea (unsweetened, although they also have a sweet option.)
Choosing just one thing off of the giant everything-sounds-so-good menu was a challenge for sure. Our table indulged in fish tacos, grouper cheek sandwich and a mahi mahi sandwich. It was quite the fish fest.
Each of the dishes came with more fries than I should eat in a lifetime. But they were really good, so I kept eating way past appropriate fry consumption levels. The fish tacos were great – grilled tortillas, perfectly cooked mahi mahi and delicious toppings.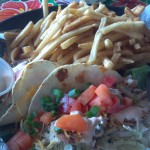 The grouper cheek sandwich was ordered blackened and was also nicely cooked and tasty. The mahi mahi sandwich – yep, you guessed it – cooked perfectly and tasted great.
The service was good and the views are unparalleled. As it is well off the main road, the water views are quiet, peaceful and are a good reminder of why the Keys are such a wonderful place to live (or visit).
Would I go back? In a heartbeat. Just as soon as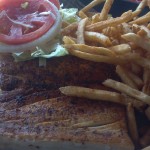 I feel like getting in the car again.