I had the great pleasure of meeting a friend I see far too infrequently for lunch last week. I wanted to go somewhere I could bring Babka, because (a) I really love the dog, (b) I knew my friend wouldn't mind, and although she is not much of a dog person, kind of likes Babka, too and (c) I schlep Babka everywhere with me (see point a). So, I picked Yardhouse at Gulfstream Park in Hallandale. 
I had heard good things, so I was eager to try it out. Upon first glance, it looks like most other big-box restaurants (think Cheesecake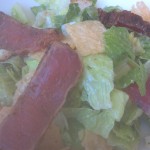 Factory – which I despise). The menu is humongous with everything from salads, sandwiches and burgers to pizza, vegan "chicken" and seafood. I ordered the seared ahi tuna Caesar salad, while my friend opted for the Korean BBQ beef. She won.
We started with the truffle fries which, although not overly truffle-y, were pretty good. (Come on, how bad is a fry topped with cheese going to be?)  When my salad arrived, it was not the Caesar I had ordered, but rather a seared tuna salad with some sort of Asian slaw. It looked okay, but not good enough to keep. A few minutes later I got the Caesar originally ordered. The tuna was rare and did not look particularly good. But now I was on my second salad and, despite the fries, was pretty hungry, so I gave it a shot. The tuna was just not fresh. More focused on catching up with my friend than my salad, I ignored it.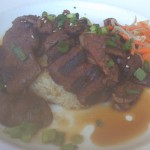 The Korean BBQ was quite tasty. The sauce was sweet and though it did not look authentically Korean, at least it seemed fresh.  When our waiter came to clear the plates he noticed my nearly-untouched tuna and asked "You didn't like the tuna?" Not wanting to make a big deal, I simply said "It was not the freshest tuna I have ever had." His response? "Well, it didn't really look too fresh when I brought it out." Really? Then why did you bring it? Did you think I wouldn't notice? Wrong.
The manager came over and apologized for my tuna "being undercooked." I tried explaining that in fact, it was cooked fine, it just wasn't fresh, which is a far bigger deal. He didn't get it. He did take the salad off the check, but managed to lose a customer in the process.