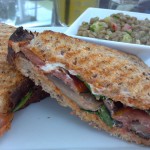 When I saw Le Petit Paris pop up recently, I thought to myself, "just what we need… another French cafe, across the street from one and a couple blocks away from one of my favorites, Le Creperie." When we went there as part of the neighborhood stroll during the Key West Food and Wine Festival, it seemed lovely, so I knew we would be trying it soon.
It was one of those lovely days in Key West that was almost cool enough to wear a sweater, but still perfect to sit outside. we sat on the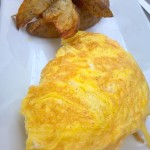 patio overlooking Duval Street to enjoy our lunch. FKGuy and his dad each ordered omelets, while I had a portobella sandwich. My sandwich came on toasted whole grain bread, with portobella mushrooms,  goat cheese, peppers and spinach with a sun dried tomato spread. It came with a side of delicious lentil salad. Usually, when I order a veggie sandwich like this, it seems like it should be healthy, but it is made into a greasy mess. Not here. The sandwich was delicious, and even seemed like I was still eating vegetables.
The omelet was a perfect example of light, fluffy, cheesy goodness. Served with a reasonable amount of potato wedges, it was tasty as well. The menu itself is small, but there are plenty of choices. From eggs to sweet crepes, savory crepes, salads and French toast, the options are appealing.
Inside, the restaurant has a warm cafe vibe. With just a few tables and comfy couches, it feel spacious and inviting. But it is Key West, so naturally, sitting outside in the sunshine – or in our case, a cool 74 degrees, is usually the way to go.
Le Petit Paris is open every day for breakfast, lunch and dinner and is located at 825 Duval Street in Key West.