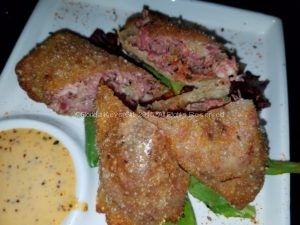 I've been hearing and reading all sorts of great things about Ends Meat in Hollywood and decided I needed to check it out for myself. The idea of a good restaurant in downtown Hollywood is enticing, and I was eager to love it, but it wasn't perfect.  
The interior is dark and reeks of grease from the open kitchen in the middle of the restaurant. Walking in, there is a long, dark bar, an open kitchen, churning out plate after plate of good food, and beyond the kitchen, you'll find a handful of tables. I adore the upside down lamps hanging from the ceiling. We were seated at the end table, next to a flight of stairs leading to a storage room. They need a door to the room, so we don't need a full view of the closet, and could use a little more space so people don't have to shimmy between the table and the stairway.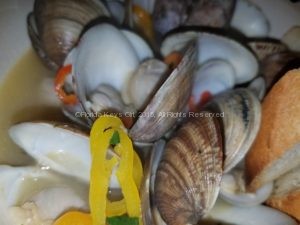 The space could certainly use some brightening, and a better exhaust system but the food will bring me back again.
We ordered a bottle of Cotes du Rhone ($24) off a list that sorely needs to be reprinted. There were several items crossed out, and the bartender let us know that there were other wines available. Unfortunately for her, we are wine geeks and describing something as a "really nice, chilled red" is not going to do it for me. I need much more information than that. I understand that is just me.
But the food is good. And reasonable.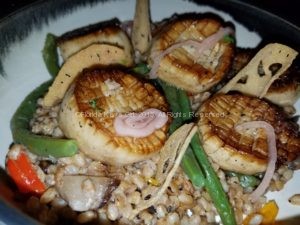 The four of us started with steamed clams in a ginger, kafir and garlic broth and an order of the Reuben eggrolls. The clams were juicy and the broth flavorful. A very enjoyable dish, and a hearty portion. I think it would be near impossible to shove corned beef, sauerkraut, and cheese into an eggroll, deep fry it and not order it. Diet be damned, they were delicious.
Our mains were a mix of everything: striped bass, trumpet mushroom "scallops", seafood jambalaya and a burger. The fish was excellent and served with a citrus burre blanc and risotto. Seafood jambalaya was a mix of seafood and mahi sausage. Yes, that is ground fish, with sausage spicing shoved into a casing. It is unique, and although I don't generally enjoy sausage, I tried this one, and it was, indeed, tasty. The jambalaya was served with a spicy rice and was not dumbed down. This was some seriously spicy, yummy rice.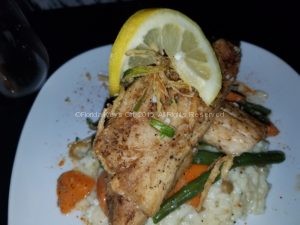 The mushroom "scallops" really were the star of the show. Served atop farro, these were mushrooms in perfect medallions, cooked to perfection. There is no possible way for this dish to have been better. I can't wait to go back so I can have more than just a taste.
I ordered the burger "no tomato, no bun, no mayo, oh and can I please have vegetables instead of fries?" I prefaced the request with an apology and told our server that I would be happy to order something else if this was too annoying. The response? "Of course, that is no problem!" Before I had eaten a morsel of food, I knew we would go back. With a can-do attitude and willingness to make substitutions, I can live with a dark dining room. Of course, the best part is the yummy deliciousness that showed up on my plate, oozing with horseradish cheddar. Mmmmmm…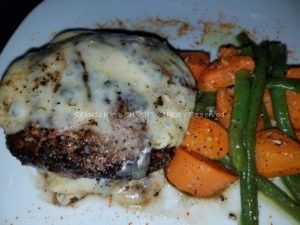 The bottom line is this: although I left a message and never got a return call, and the interior needs some work, the food is superb, service is good, and it is not outrageously expensive. Dinner for four, with two appetizers, four entrees and two bottles of wine, including tip was about $180.
Have you been to Ends Meat? Let me know what you think! Ends Meat is located at 1910 Hollywood Boulevard, in downtown Hollywood and is open for lunch Tuesday through Friday, Brunch on Saturday and Sunday and dinner Tuesday through Sunday.