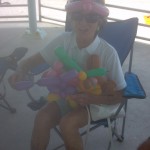 Don't worry, this is not some boring post on juggling a million things at once, or time management, rather it is about, you guessed it, juggling balls, and birthday parties. So, read on. People that don't have kids (me) rarely get invited to birthday parties of friends' children. I assume they think because we (I) don't have kids, I am not interested in theirs. While sometimes true, it is certainly not always the case. I especially like to be included when fun stuff is happening.
Earlier this week, friends invited us to their grandson's birthday party. He was turning eleven and wanted his birthday to be in Key West (I knew I'd like the kid…) So his parents traveled with the birthday boy and his younger brother to Key West for almost a week to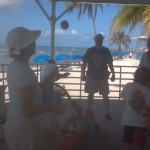 hang out with his grandparents and have his birthday party. I am pretty sure the only reason we were invited to this party is because the grandparents don't actually know any other children in Key West.
After the initial panic ("What gift should I get? The party is tomorrow and I live on a really small island…") I got an iTunes gift card and moved on. He was happy.
The party started on Higgs Beach with the group learning to juggle from professional performers and local fixtures, Bounce the Clown and Ooh La La. I was a bit hesitant because (a) I don't pick these things up so quickly and (b) I would undoubtedly look like a fool, but Bounce and Karen (Ooh La La) made the dozen people – adults and children – feel at ease. Not only that, but they actually got me juggling. Three balls. At once. They are amazing.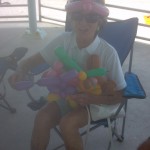 There were balloon animals, balls spinning atop fingers a la the Harlem Globetrotters and some frustration among us all as our balls that were  supposed to be midair came crashing down around us. It was an afternoon of fun, and certainly something I do not get to do every day.
The juggling, balloon twisting, spoons-playing and ball spinning was followed by a wonderful lunch (salad topped with yellowtail, if  you must know) at Salute! on the Beach. I hope the birthday boy had as much fun as I did.