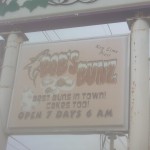 Bob's Bunz is a breakfast and lunch joint with an attitude. From the "Got Bunz" hats to the wall signage ("Squeeze Bob's Bunz before you leave!") it is a fun diner. They are, of course, famous for their cinnamon buns, which much to my delight (even thought I didn't have one) come in a mini size.
3 Loud Women were on our way to film a segment for the Good Morning, Florida Keys early show when we needed breakfast and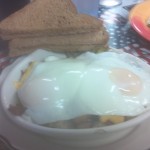 stopped at Bob's Bunz. I had the BBS (Bob's Best Seller) which is a skillet full of potatoes and cheese topped with two yummy, runny eggs. I added some mushrooms, onions and jalapenos to insure that I would have good breath for the TV spot.  It also came with two slices of buttered toast.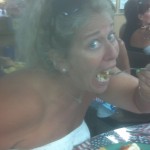 The other two Loud Women ordered omelets with no toast. I'm not sure how people actually enjoy themselves while being carb free. It certainly doesn't work for me. The breakfast was not only delicious, but service was efficient, and coffee was refilled adequately.
I think that when you go to diner-type places they should ask you about your coffee drinking habits. Have you already had four cups of coffee (as I had that morning) so you will be nursing yours for a while (which I had not. Chug. Chug Chug)? Is this your first cup and should we get you an IV?  I really think it would help many a frazzled server if they knew which coffee camp you were in from the get-go.  Don't you agree?
Either way, it was an enjoyable breakfast in a very retro environment (complete with red, white and blue tablecloths left over from the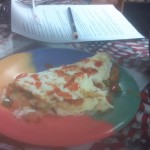 4th of July).  I'd go back, but next time I am all in for a cinnamon bun.
Bob's Bunz is located at Mile Marker 81.6 in Islamorada.