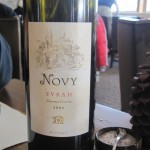 For me the skiing is all about one thing. Powder? Nope. Lovely groomed trails? Well, sometimes. Lunch? All the time. I have now worked into each Deer Valley trip a lunch at the new-last-year JG Grill. As is Jean Georges. Yes, that Jean Georges. I ski there from the Deer Hollow run – a lovely, easy green – and while I technically can ski back down to the bottom of the mountain, this time opted for the funicular. I am looking forward to getting the knee fixed and making the skiing all about skiing next year (and maybe still a little about the lunch).
It was my last ski day and the sun had finally come out. I did some easy skiing and after battling with Kimberly (the ski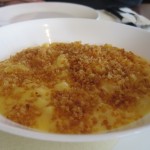 run, not an actual person) and meandering across the never-ending Navigator, I made my way to Deer Hollow for a few laps. When my knee just would not have any more of this skiing nonsense, I headed over to the St. Regis to do some work and wait for FKGuy to exhaust himself on the likes of Mountaineer and Jordanelle.  I was kept well informed from the chair lift texts ("one more run" … "on lift… gonna ski Fairview to St. Regis").
We made our way into the lovely room that houses the JG Grill and promptly ordered a half bottle of wine. We were being reasonable, as we were going to a wine dinner that night. Alas, they did not have the wine we wanted in stock, so we opted for the Novy Syrah, only available by the full bottle,  and started the Syrah themed evening a little early.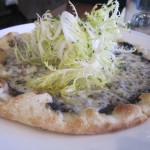 The food at the JG Grill is simply outstanding. From the soup, to the oh-so-creamy mac and cheese made with local cheddar, it is all good. Then there was the to-die-for black truffle pizza. It is topped with a frisee salad, which, although normally not a fan of the curly, bitter lettuce,  was amazing. It's an important lesson: Anything doused in truffle oil is bound to be pretty good.
Overall, the service at the restaurant was very good. Nate, our waiter, was lovely and made sure everything was to our liking. The only service glitch they seem to have is in the clearing of tables. The woman who cleared our plates did so while I was still chewing. Not OK. I thought it was a fluke until I saw her do the same thing to a woman two tables over (and also still chewing). I wonder if that is a lunch thing, where people just want to be done and back on the mountain?
It is a rare treat for me to indulge in dessert, but the Salty Caramel Sundae still has me drooling. Salted caramel ice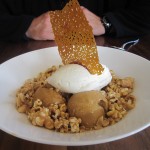 cream – a perfect balance of texture and flavors – sitting on a bed of chocolate sauce and topped with grown-up Cracker Jacks and luscious whipped cream.
We finished lunch, only to have half a bottle of wine left. FKGuy promptly returned to the mountain for more skiing. I, just as promptly, retreated to the outside deck overlooking the ski slopes with the remaining wine. (I even shared it with others hanging outside enjoying the day.)
If you are at Deer Valley, make your way to JG Grill. It is a perfect midday stop while skiing, and I'm pretty sure dinner would rock.