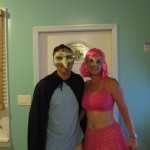 I know you can't wait until next week, so today I am bringing back some of the favorite photos of the last few years. In addition, if you haven't yet planned out your whole week, here are a few choices for what to do. There is no shortage of drinking, costuming, body painting, etc.
The event lineup is immense, and for a full listing you should head over to the Fantasy Fest website. These are just my picks.
Tonight at the Casa Marina is the Pet Masquerade, which sadly, we will be missing. Take some pictures for me, so I can show Babka what she was missing. Also tonight, once you have seen the pet-and-owner look-alikes, head over to LA Concha for the Celebrity Look Alike costume contest.
Tomorrow brings two parties at two iconic bars: the toga party at Sloppy Joe's and the Monsters Ball at the Green Parrot. I don;t normally go to Sloppy Joe's, and seeing hundreds of people in togas is not really an incentive.
Friday you can start your day off at the Hog's Breath for the Hair of the Hog party, beginning at (yikes) 10 AM. Friday evening brings the Masquerade March, where everyone parades around the cemetery while drinking. It is my favorite event of the entire week, largely because after a few cocktails it is always a challenge to recognize people I know.
Saturday night brings the "big" parade, which I will only be watching if I am up on a balcony or roof somewhere. I just can't be part of that giant crowd. Of course, the thing that bothers me most about the parade is that it causes the whole town to shut down. You simply cannot get a decent meal on Saturday night of Fantasy Fest.
Now, you have waited patiently, here are some highlights from years past: