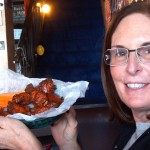 Recently I had a meeting in Miami that started with lunch at The Filling Station. To say it is kitchy would be an understatement. With menu items named after cars and trucks, and sandwiches served with tater tots, I knew there was going to be some good food here, too.
We started with The Oil Pan, because, well, we could. It is a giant plate filled with onion rings and fried pickle spears and sides of ranch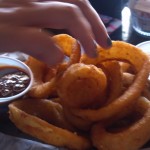 and BBQ sauce. What is better than good onion rings? Good onion rings and pickles. (Note that you need several people to share this if you hope to ingest anything else during your meal.)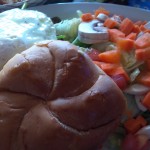 There was a lot of food happening at this table, the only nod to healthy was a lone Cesar salad. OK, not entirely true, I did have a side salad instead of tater tots. So, what else did we have? Party in Your Mouth wings, billed as the hottest ones they have. Nicely spiced, and while not for the pepper-adverse, they were not so hot you couldn't taste the yumminess.
The burgers are big (although some of that may have been the onion rings and fried pickles talking), and cooked to order. Here, medium rare means medium rare. Mike's Speed Racer also comes with sauteed spinach, mushrooms, jalapeno jack cheese and a fried egg. Talk about a party in your mouth. Oh my. The Hambourgini was also a hit, topped with Genoa salami, provolone and pesto mayo.
Bev's Benz is all the bar food you could hope to find, in one sandwich. The grilled chicken sandwich was a big hit, topped with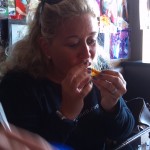 mozzarella sticks and marinara sauce and served on garlic bread. I think more sandwiches should come on garlic bread. Sure, our breath would be horrible, but nobody would care because they would be eating garlic bread, too. It could get messy.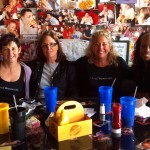 The Filling Station is a great place to get good quality "junk" food. Yeah, they've got salads, too, but that is not why anyone is going there. They're going for the burgers. And tater tots. And the beer. If you are in downtown Miami, you should give it a shot. The Filling Station is located at 95 Southeast 2nd Street in Miami.