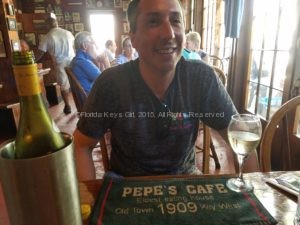 I've enjoyed lunch in the outdoor garden on Caroline Street at Pepe's for years. Others have been patronizing Pepe's much longer, as it has been around since 1909. Now that summer specials are in full force, we were inspired to check out the dinner offerings. Even at full price, we'll be back.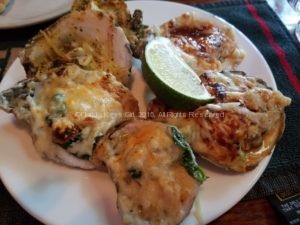 The trend this summer seems to be toward early dining, and although we typically eat later, I am all in. Pepe's is offering half price entrées from 5 – 7 PM. It is about a twenty-five-minute walk from my house, so by the time we got there, we were hot, sweaty, and badly in need of a beverage.
Although they do have a full bar, complete with freshly squeezed juices, we chose a crisp, white wine. Most wines on the small list are in the $28 – 40 range, and they allow corkage for a $13 per bottle fee (or possibly $10 – it was a bit unclear). We sat inside in the wood-filled, small room.  There are about eight tables inside, and more outside. (We would usually choose outside, but as it was still daylight out, and humid, air conditioning seemed like a better choice.)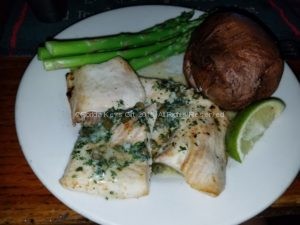 Finally cool, we were able to focus on the menu. As it turns out, three sets of tennis in the heat, plus dog walks, and a slew of errands means that I will be hungry all day. We ordered far more than was necessary, but it was our first time at dinner, and we had to explore several options. We started with the oyster medley, two each of three different styles: Florentine (spinach and cheese), Mexican roast oysters (with Anaheim chiles and Monterey Jack cheese) and Rudi style (lemon pepper with Worcestershire sauce and Parmesan). They were all delicious, flavorful and succulent. I was glad to see the "medley" option on the menu. Clearly I am not the only decision-making challenged diner. We also started with a cup of the dolphin and jalapeño chowder. A steaming hot cup of creamy, satisfying chowder, that likely would have been even more appealing mid-winter.
The meal could not possibly have been going any better. As a bonus, we had excellent, attentive service throughout the meal.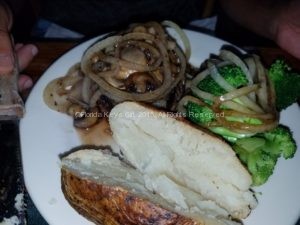 Next, we ordered two entrées to share. The first, a filet topped with sautéed onions and mushrooms, was good. It was not a superior steak, but it was a solid dish. Each entrée comes with a choice of starch, vegetable, and cornbread, and for the steak, we chose a baked potato and broccoli and passed on the tasty-looking cornbread.  We also ordered the fresh fish (mahi-mahi) with caper garlic butter, along with a baked sweet potato and asparagus. The fish was outstanding. Perfectly cooked, moist and tender, mahi-mahi can get dried out rather quickly. This one was perfect. The asparagus was slightly undercooked, but the fish and potato were both excellent. I also love that there is a choice of potato (baked, baked sweet or mashed), as well as a vegetable selection (asparagus, broccoli, carrots, corn or green beans). At the regular price ($24.95) it is a bargain but at half-price? I'll be back for this one. Often.
Pepe's also offers a selection of homemade desserts. One day I will try them all: coconut cream pie and banana cream pie are house specialties.
Pepe's is open daily for breakfast (starting at 7:30 AM), lunch (starting at noon) and dinner (starting at 5 PM), and is located at 806 Caroline Street in Key West.