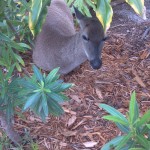 When friends asked if we wanted to join them for brunch at Little Palm Island, two thoughts popped into my head. The first was, of course, "Hell, yes. Why wouldn't I want to go there for brunch?" The second thought was "Woohoo! Someone else has been in charge of making plans so I don't have to."
We left our house at about 10:15 AM and headed to our friend's house where we piled into a big Buick SUV for the twenty-eight mile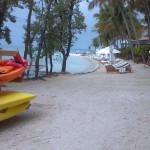 drive north. I should mention that it was freezing out (by Florida standards) and so I was bundled up in jeans, a cashmere sweater and jacket. I was, however, still wearing sandals as I have misplaced my pair of closed-toe shoes.  We arrived at the welcome stop for the island to find warmer weather and clear skies, so I ditched the cashmere in the car, and hoped I would not later regret it.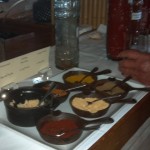 On the ferry on the way over, it began to get cloudy, and as we disembarked the boat, it started to rain. We were greeted by three very laid back Key Deer, just hanging out, taking a nap and occasionally posing for a photo. As we were seated at our table, I noticed that we were the only ones not under a heater. A quick word with our server and a heater was brought over and the plastic shades lowered to keep the heat in. Once we were comfortable, we could hit the buffet.
There are a few notable points about the brunch here. Yes, it is $85/person plus tax and gratuity, but it is worth a splurge every now and then. The cold buffet is full of cheeses, salads, smoked meats and fish, fruits,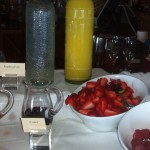 breads and a carving station. It was worth two or three trips, but I admit that I lost count after a while. Also inside at the bar is the Bloody Mary Bar – a do-it-yourself Bloody Mary station with several kind of olives, mixes, spices and more. I learned that I make a darn good Bloody Mary. Also inside at the bar is the Champagne bar with sparkling wine and several fruit and juice mixers. I made several visits.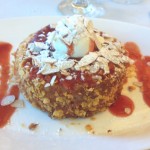 The food was very good, and beautifully presented. Highlights from the buffet included smoked salmon, assorted cheeses, hearts of palm salad and a surprisingly tasty egg salad. I know, it is not usually even worth discussing, but this was good egg salad. In addition to the buffet, Champagne bar and Bloody Mary Bar, there is also a hot menu. There are seven or eight choices of hot dishes, each served in a very small portion (so you can try them all!).
By far, my favorite of the hot choices was the French toast with toasted almonds and a guava sauce. When it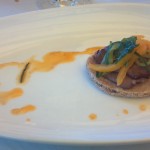 was served, the first thing out of my mouth was "That is huge! I thought these were small portions?" The waiter laughed at me and proceeded to tell us how the regular sized portion is much, much larger. I heard nothing else he said, as I was very busy enjoying the not-so-small portion of deliciousness, and contemplating a second one. Although I did not have a second one, I did try FKGuy's potato and leek soup (yum) and mahi mahi (even more yum). The smoked salmon Benedict was the week link of the menu, as it was cold, and a cold poached egg is not a good thing.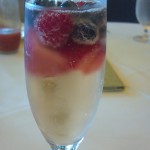 Near the end of our dining marathon a Key Deer came by for a visit. Much like Babka, she was just interested in treats and being petted, but really more focused on the treats. I'm not up on what deer can or cannot eat, so I passed on giving her anything from my plate. That did not stop another diner from feeding her a whole handful of strawberries. I know the deer was thinking "Too bad these nice people are leaving, but I am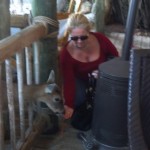 pretty sure another boat load of them will be coming soon… better save some of my charm for the new suckers."