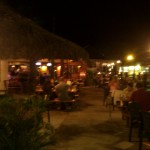 Several years ago we stopped at a lovely little place called  the Island Tiki Bar in marathon for some lunch. I recall it being quite good and laid back. They seem to have redone the place so now there is an actual parking lot (not just rocks), a huge seating area, including a large outdoor space and, of course, the requisite gift shop. now it is called the Island Fish Company and is at mile marker 54, bayside.
Pre-renovation the place had lots more charm than it does today. Nonetheless, we were driving right by about 8:30 last Friday night and decided to stop for dinner. There were several people dining, many in large groups. We sat in the back, on the water. I ordered the pan fried yellowtail. This is described on the menu as "Lightly dusted in seasoned flour and pan fried with sherry, lemon and roasted garlic butter". The good: fish was cooked perfectly and was rather tasty. The bad: They claim to have used garlic butter and I taste neither garlic nor butter. When something says "garlic butter" i expect to be able to taste the garlic, otherwise it is just used as a seasoning, not a main flavor component. Big disappointment.the vegetables served on the side – a combination of zucchini, squash and peppers were quite tasty, but again, missing garlic. The rice was over-seasoned and had a sort of odd taste.
I should also mention that this dish comes with a side salad. Our waiter, when telling me the dressing choices, explained that the blue cheese dressing is homemade, so I opted for that. The dressing, in a little plastic container came complete with a big, black hair doing the backstroke in it. The second batch of dressing was actually good.
Also at my table was a blackened grouper sandwich. The sandwich is good, but for an upcharge of $2 for french fries, I would expect fries that are both hot and good. It is really hard to make bad french fries, yet they managed.
I stayed away from the scary sounding fried key lime pie and left longing for the pre-renovation tiki bar. Overall, the fish was nicely cooked, but there are other places that do the whole routine a lot better.