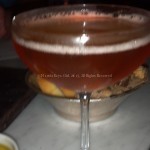 I will admit that I did not think it was going to go well as we exited the car and were told "That will be $22 on your way out." Fortunately, our dinner at Cecconi's was all uphill from there. I could go on about my hatred for valet parking, especially when there is no other option, but I will spare you. Instead, let's focus on the important stuff: the food, and the service, and the decor.
The "room" at the back of the Soho Beach House hotel is really an outdoor garden with most of a roof, and it is stunning. Trees, flowers and tons of lights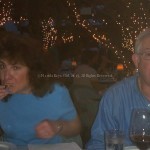 make it seem like like the backyard I have always wanted, but never wanted to actually maintain. I did give the menu a quick 0nce-over online earlier in the day and, despite bringing two lovely wines with us, one thing did stand out: Classic Champagne Cocktail. Naturally, that was my starting point.
When we arrived, around 8PM, the restaurant was a little less than half full (by the time we left, it was packed). We were given a choice of tables, and of course, I chose the one with the couch-style seating (the better to nap, post-dinner). Both our server, Marina, and the sommelier, Kyle, were friendly, professional and made sure everything was perfect. Somehow they managed to accomplish this in a manner that was neither obtrusive nor snooty.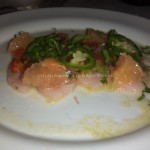 But how was the food? I'm getting there. Relax. Have some Champagne. As our server was telling us about the pizza of the night (truffle, goat cheese) she let us know that one was going to be coming our way, so we need not order. It was delicious. Even my mother – normally an outspoken goat cheese hater – liked this one. I'm not sure I would trust anyone who did not like this dish.
Other appetizers included hamachi crudo, eggplant parmesan, baked artichokes with aioli, and a tiny portion ("cichhetti") of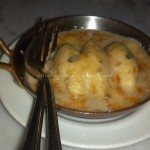 gnochhi with gorgonzola sauce. The gnocchi were very good, but the cream sauce was soak-your-bread-in-it amazing. My waistline was glad it was a small portion being shared by four people. My taste buds were another story.  The hamachi was outstanding. Fresh, thinly sliced fish topped with avocado, green tomatoes and jalapenos.
I honestly thought things could not get any better (then again, we were not at an eat-during-the-cocktail-hour type of event, either). So, if you have been here before, you know that I love all things carbs, but am especially fond of (that is code for "eat as often as possible") pasta. To me it is very satisfying to start a meal with pizza, continue with gnocchi and then get a big plate of pasta with mixed mushrooms. The pasta was incredible. Of course,  by this point, much of it went into a to-go box, but was equally enjoyable on day two.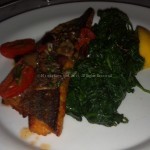 Everyone else had fish. Branzino for FKguy (outstanding. complete with olives, tomatoes, capers and sauteed greens. My parents shared the Dover sole, which was expertly filleted by our server and perfectly cooked. We marveled how everything was going so well, there we no complaints whatsoever. Until now. The Dover sole was presented on two plates, yet one was missing the lemon garnish. You know it is a superb meal if the only thing missing is a slice of lemon.
My dad then had some of the house made gelato (delish), while I chose to just have some additional wine. There is more I can say about how great Cecconi's is, but it really would be better for you to find out for yourself. Cecconi's is located in the Soho Beach House, 4385 Collins Avenue in Miami Beach. As it is in a hotel, they are open for breakfast, lunch and dinner every day, as well as brunch on Sundays. Enjoy.