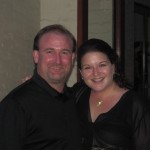 Over the weekend, we went to Tampa to visit some friends and celebrate her 40th birthday, or as she likes to put it: the first anniversary of her 39th birthday. Friday evening was at Sidebern's, the "creative" restaurant owned by the same people as Bern's, the steakhouse.
The food was good, including the heirloom tomato salad, the gnocchi, which were tiny little fluffy pillows; our friends had both the foie gras and "chicken fried" sweetbreads. The food, however, was secondary to the wines. We started with a 2007 Aubert Ritchie Vineyard Chardonnay and made our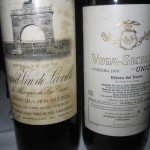 way through the others: 2005 Nicolas Potel Vosne–Romanee 1er Cru, Aux Malconsorts, a 1997 Poggio de Sotto Brunello di Montalcono, 1970 Leoville Las Casesand a 1970 Vega Sicilia Unico. I was a bit unsure of the Las Cases, as I recently bought this from a friend, and to say the cork was moldy is a bit of an understatement. Turned out, the wine was fantastic. complex and rich, it even had some fruit flavors left. The Unico was outstanding as well, and did not taste 40 years old. Even though the Brunello seemed like a slightly off bottle, it was outstanding as well.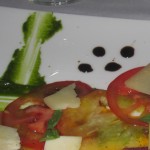 After dinner, we made our way over to Bern's for dessert (and a tour of the wine cellar). I will say that Bern's was nothing like I expected. It is more French Whorehouse than high end steakhouse. I'm not exactly sure what anyone was thinking when they covered the entire first floor in red velvet and added busts all over the place.
We first toured the kitchen, which looks remarkable like a giant cafeteria. The restaurant can serve 1,200 people per evening. It is impressive in it's size and efficiency, but it didn't really inspire me to eat there. Then came the tour of the wine cellar. Bern's has a collection of 750,000 wines, of which about 10% are stored on site at the restaurant. I'm a bit curious, so as the tour guide was telling us about their collection, I started pulling out bottles to see what they were. Our tour guide was not amused. Soon thereafter we were asked to leave.
More on the wine we actually ordered and the dessert room on Wednesday.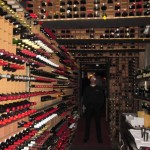 Come back then!