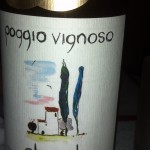 I first wrote about Mangia Mangia in 2009, and have had many good meals there since, so I thought it was time for an update. Nothing has changed. There you have it. Really, we had a couple of bad service experiences and so had not been there in a while. Last night I had a hankering for their smoked salmon pasta, and off we went. From a  block away you can smell the garlicky goodness. 
The wine list is still very good, and with a $20 corkage fee we have found that sometimes it makes sense to just buy a bottle off their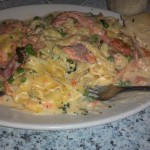 list, as in addition to the huge selection of very expensive wines, they also have a number of well thought out, inexpensive selections. We chose the Poggio Vignoso Chianti, 2010 which is a blend of Sangiovese, Canaiolo and Malvasia. At $32 on the list, it was a good choice.
As for the food, it is the same as always, which is a good thing. We had to pass on my favorite appetizer, the roasted asparagus with tomato and gorgonzola cheese. It is a bubbly plate of goodness, but alas we passed in favor of, you guessed it… more pasta.
Hands down my favorite pasta here is the fettucine with smoked salmon.  It also likely the least good for you. It is a huge plate of fettucine smothered in a cream sauce with peas and smoked salmon. And just because you can never have too much butter, it comes with garlic bread. It is a salty, creamy wonderful dish that I can only eat once in a while. (But it is always a happy time when that once in a while rolls around).
Keep in mind this is not an Italian restaurant, and so you don't see some of the usual items that typically go with pastas – chicken or eggplant parmesan, for example. Instead they have things like the Cuban-inspired picadillo turned pasta with black beans and ground beef. There are plenty of vegetarian choices, and now they even offer gluten free and organic quinoa. There are grilled fish or chicken platters that can be had with salad if you are really anti-carb,  but the homemade pastas are truly worthwhile.
Mangia Mangia is located at 900 Southard Street in Key West and is open for dinner daily.