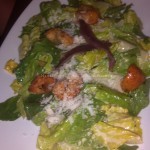 When the new owners took over the dated Square One earlier this year, I was not the only one thrilled that the place would get a much needed makeover. I hadn't gotten around to trying the new incarnation until last night.
First, the decor has had a makeover. It is still a little old school feeling, but at least the bathrooms no longer have shower curtains for doors. This is a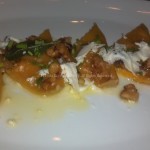 huge deal, as after my last visit, I vowed not to return until the shower-curtain-that-touched-my-knees situation was fixed. I am happy to report it has been rectified. Overall, it is clean and nice looking inside, with additional seating on the lovely patio.
The menu has been completely changed, too. There is a selection of small plates, salads, fish, meats, chicken and vegetarian dishes. In a very user-friendly manner, dishes that are gluten free, vegetarian and vegan are all marked as such. On the other hand, the menu is a little unfocused and all over the place. From the small plates menu, the lobster bisque and Cesar salad were both good. FKGuy ordered the pan sauteed yellowtail entree and I ordered the butternut squash agnolotti from the small plates menu. Typically, agnolotti are half moon shaped and pillow-y soft. Sadly, this version was a flattened, sad triangle. It tasted pretty good, though, despite the sage butter sauce lacking in sage. The yellowtail was perfectly cooked, not over-sauced, and came with a few potatoes on the side. It was also supposed to come with "zucchini-ricotta fritters" which were, in fact, more like zucchini ricotta wontons, as they were encased in wonton wrappers and fried. The filling was tasty.
Overall, we had a fine meal. Would we go back? If someone wanted to go, I would not object, but nor is it high on my must-go list. They do have a happy hour daily at 5PM with $5 drinks and $5 food items. Square One is located in Duval Square at 1075 Duval Street, Key West and is open for dinner every day.