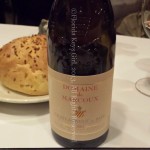 Our friends have long been going on (and on, and on…) about how much the like Morton's. As I typically avoid chains, I didn't really think much of it. The last week I got an email from this friend, forwarded from Morton's. It was a $49.95 four course menu, and it looked pretty darn good. So, off we went.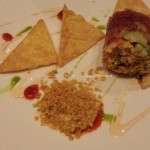 Having never been to a chain steakhouse, I didn't know what we'd get. But, our friends do have very good taste, so I was optimistic. I had inquired in advance about their corkage policy ($29 – yikes!) and so we brought a couple good bottles with us.  It was a rather slow Tuesday night, and the atmosphere was pretty bland. Service, on the other hand, was attentive.
I went with the four course menu, and although our waiter tried a bit to up-sell ("the other menus come with full side salads and desserts!"), I stuck to the plan, as I don't need or want four full sized courses. I started with the tuna tower, although by the time it got to me it was more of a leaning tower of tuna. Delicious nonetheless. Our friends had the surf and turf menu, and both started with salads. I opted for the Morton's salad, minus anchovies (I know some people like them, but those hairy little fish are a bit much for me). The salad consisted of crisp romaine lettuce and egg tossed in a homemade blue cheese dressing. Pretty much anything topped with a good blue cheese dressing is going to be a hit with me, and this was no exception.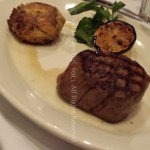 As for entrees, there were some 6 ounce, petite filet mignons  (cooked very nicely, and very flavorful – as one would hope from a steakhouse). In addition, our friends did the surf and turf – one with lobster and one with crab cake. Both were big hits.
Dessert had been hyped up, most notably the molten chocolate lava cake. I thought to myself there was no chance it could be as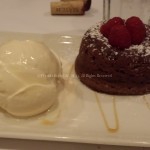 good as everyone is making it out to be. I was wrong. While the key lime pie was tangy and good, topped with real whipped cream, and the chocolate mousse was a tad heavy and overly creamy for my taste, the lava cake was can't-stop-eating-it fabulous. Oozing with rich chocolate, tempered by cool ice cream, it really was delicious. I look forward to having it again, hopefully soon.