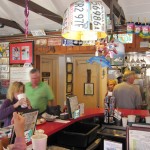 Mrs. Mac's Kitchen is an unassuming place tucked just off of the Overseas Highway at Mile Marker 99.  established in 1976, they are on their second set of owners, who seem to be doing a darn good job. Mrs. Mac's claims to have the largest collection of license plates east of the Mississippi. Although I am not sure there is an official governing body for this sort of thing, they do seem to have a lot of them.
Inside is a specials board with a dozen or so items, in addition to the already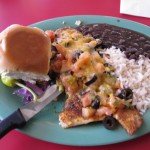 huge menu. The have loads of preparations of freshly caught fish, vegetarian options, salads and sandwiches,  as well as "famous key lime pie". I will have to judge that one next time, as now I know how large the portions are. I'll keep you posted.
I had the Enrique Hogfish Plate. A huge piece of delicate fish, blackened and topped with olives, tomatoes, jalapenos, scallions and cheddar and jack cheese, served with black beans and rice. It tasted just like taco topping. It was outstanding. Did I mention that it was also huge?
My friend had the fresh seafood combo: a basket overflowing with fried mahi-mahi, scallops and shrimp, served with amazingly good cottage fries. They look like potato chips, only they are french fries. All of it is just-off-the-boat fresh.
In keeping with the huge portions, they serve a 32 ounce iced tea. After two full glasses of those, there were several bathroom stops on the rest of the drive to Key West.
Mrs. Mac's offers counter service and is open Monday through Saturday. if you have been there and had the Key Lime Pie, leave a comment and let me know how it is.