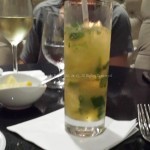 Last week, a friend asked if we had been to the new tapas-style place in La Concha yet, and I was confused. There was a new restaurant in town that I had not heard of? How could that be? My friend then let me know that they were running a local special for the month of February to celebrate their opening. Needless to say, we had to check it out.
We were told on several occasions that the chef was formerly of Square One, but seeing as how I never found Square One all that inspiring, I really didn't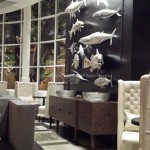 see this as a big plus. But off we went, keeping an open mind. The lobby has been redone and is really lovely. Shades of grey, and a feeling of newness greet you, along with some really lovely couches and chairs.
I admit it: I love to eat on the sofa. Don't judge me, I know you do it, too. So, the fact they have sofas here meant for sitting on while you eat is fabulous. Of course, FKGuy much prefers the comfort of an actual chair and table, so we sat at fabulous high back, ivory leather chairs and a tiny round table. The wine list is serviceable, and the by the glass selections are fine, too.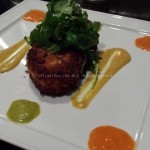 FKGuy has a Ferrari Carano Fume Blanc ($10 by the glass) and I had a "Bour"jito, which is a play on a bourbon mojito, but really it's just a mint julep. Yum.
The menu is billed as tapas-style, but really they have small plates, salads, sandwiches and large plates, and the menu is bit all over the place. Seared yellowfin tuna small plate was okay at best, just lacked a bit of seasoning. It was also kind of boring, and served with the same sauces as the crab cake. Crab cakes, on the other hand, were delicious, served with three sauces (rum pineapple mustard, some sort of key lime sauce and a basil-y nod to pesto) and topped with watercress salad. Caribbean spiced shrimp with tomatillo salsa were also a big hit, but the lobster bisque was truly a star. Served in a big bowl with way-too-good bread, this is a filling, meaty, creamy bisque. Delicious.
Overall the food was good, though not memorable, and the menu lacks direction and focus. Would I got back? Well, at happy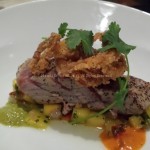 hour (4:30 – 6:30 daily), all small plates, mojitos, wines by the glass and beer are $4.30 each, so yes, I'd try happy hour for sure. But at regular tariff, it feels pretty pricey, and for a regular dinner out I would opt for somewhere else. I am curious to see how the menu, pricing and direction all shake out once they have had a chance to be open for a little while.