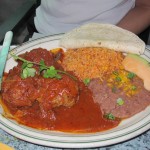 Comfort food means many things to many people. In the food world most people would think of a big bowl of chicken soup or a plate of macaroni and cheese. Surprisingly, Mexican food is also something I would classify as comfort food. A nice toasty tortilla filled with cheese and some spicy salsa  – there is nothing better on a cold day.
I recently made two visits to Chico's Cantina on Stock Island. The photo above is of the albondigas (meatballs) enjoyed by a friend on a recent visit. She proclaimed them the best Mexican food she has ever had. Each visit to Chico's starts with a basket of warm, fresh chips and salsa brought to the table. The order or guacamole did not disappoint, either.
The menu includes seafood, enchiladas, tacos and more. I enjoyed a "cheese crisp" which is basically an open-face quesadilla. The cheese was evenly melted and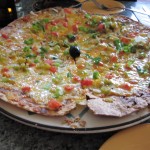 you could have it any number of ways. Fish tacos here are listed on the menu as fried. When asked if it was possible to grill them instead, the answer is a cheerful "no problem". The tacos are served on a plate with loads of fish, salsa, guacamole, rice and beans. They are the kind of fish tacos you (OK, I) long for when too often faced with the inferior sort – fish you can't quite identify, soggy tortillas… you get the idea. These are fresh, well prepared and delicious!
It is worth the 5 minute drive to Stock Island to get to Chico's. Don't be fooled by the less-than-exciting interior, instead head to the back patio (covered and heated, if needed) and enjoy!