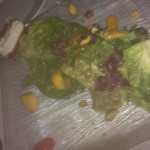 Rooftop Cafe is in a lovely location on Front Street. The outdoor deck and seating above the street is really lovely. I hadn't been there in about ten years, and I think it will be another ten before I am back. Why? So many reasons…
The menu is small, and not very interesting. They have one fin fish on the menu, a mahi-mahi with a passion fruit rum glaze and yucca fries. When I asked if it was sweet, as I really didn't want something sweet for an entree, I was given the half-hearted answer of "well, it's not too sweet, but there is a bit of sweetness in the dish." I assume our waiter meant "Yes, some people find it sweet, but I don't want to dissuade you from ordering it."
The goat cheese salad was quite delicious. The kitchen split the plate for us, and I was surprised at the giant size of the half salad in front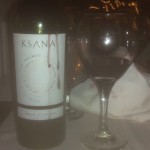 of me. We were told by the food runner that the kitchen simply puts the full salad greens on each plate and half the "stuff" like goat cheese. It was wonderful.
OK, so on to the service and atmosphere. We were seated in the back corner along the street, and from below heard a constant yelling from the store next store ("$2 beers! Cigars! Come get cold beers!") which was more than a bit annoying, although not the fault of the restaurant. I would suggest a screen or something along the side of the roof deck to at least block a little of that nonsense.
The service was okay. There were some definite problems and they hit on some big pet peeves. When the water guy came around to refill our water, he missed my glass completely, so I had a lovely puddle of water and ice at my place. He did nothing about it and ignored it completely. Dude: You could have at least taken the ice cubes with you. Just saying. He could have also not thrown the bread on our table.
Then our server comes along and seems fine. He asked where we were visiting from, and we told him we were local, so in fact we were just visiting from half a mile away.
I am going to interrupt myself for just a moment here… when I have dinner at home, which is often, if we have a salad course then an entree, I do not ask my guests to keep their silverware unless (a) I am feeling really lazy and it is someone that has been to my house a thousand times or (b) I have run out of silverware, since I do not operate a restaurant. Even then I typically just wash the forks mid-meal. (You see where this is going, don't you?)
So when the waiter came to clear our salad plates, he removed my knife from my salad plate and stuck it back on the table. This is a place with $30 entrees. This is absolutely not OK. Yes, I know it is a little thing, but more often than not it is the little things that either make a meal great or terrible.
I've got one more pet peeve here: the corkage fee. I am absolutely fine with a restaurant charging a corkage fee if we choose to bring our own wine. I called ahead and found out the fee is $20. For $20, I expect the restaurant to have decent glasses made of some sort of crystal. Instead here they have pretty crappy stemware, which our waiter proceeded to overfill.
In this case, I would say the little things, combined with the big price tag, equal someplace I won't go again any too soon.
Rooftop Cafe is located at 308 Front Street in Key West. Have you been there? What do you think? Am I overreacting?