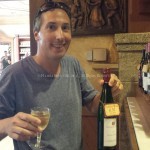 I recently helped friends plan a trip to take their nine year old to Disney World. As a travel agent, it is what I do. But as I was planning this trip for them, I was trying to figure out a way to get up there and visit with them, as it had been nearly two long years since we have seen these friends. I didn't let on until I knew it was a possibility. 
FKGuy and I dropped Babka off with a friend at 6:30 Sunday morning (another very good friend) and headed north on the
turnpike. Four hours – and a coffee stop, parking at the hotel, checking in, taking a bus over to the Magic Kingdom and getting our tickets – later, we were in the Magic Kingdom in line for Thunder Mountain (a favorite of the 9 year old). We made great time, but as we had already done so much, I knew we were in for a long day. Fortunately, I had my trusty Fitbit to let me know just how long it was.
Here is the thing about Disney World: I get it if you think it is too crowded (it usually is). I get it if you think it is too expensive (undoubtedly). I get it if you don't like the over-commercialization. But I don't get people simply not liking it. Disney World is tremendous amounts of fun. From the parades to the rides to the Mickey-shaped ice cream, it is difficult to have a bad time.
We started in the Magic Kingdom and enjoyed Thunder Mountain, Splash Mountain, the tea cups (always a favorite!), the speedway and more. After making our way through some of the park (our friends had already visited earlier in the week), we headed to grab the monorail to EPCOT.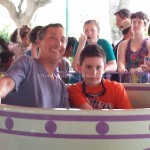 I love EPCOT for so many reasons. I love the World Showcase with different foods, attractions and shops. I love the gelato cart in Italy, the wine bar in Germany (which is where, many years ago, we learned about German Rieslings and their various classifications), the boat ride in Norway, complete with trolls. I love that twelve years ago, while indulging in fondue in a tiny restaurant in Tours, France, the owner came out to talk to us.
"What a beautiful day," he said in French. I smiled and nodded. I had no idea what he said.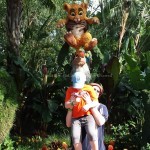 FKGuy let him know (in French) that I had no idea what he said. He switched to perfect English and asked where we were from. When he heard we were from Florida he got very excited, as he also used to live in Florida. Turns out, he worked at the French pavilion at EPCOT.
But EPCOT is not just a bunch of boring shops. They have plenty of attractions as well. Like one of my favorites (also a favorite of the 9 year old), Chevy's Test Track. You get to design your own car (mine looked like a pink dune buggy with giant wheels) and then see how it reacts in different weather conditions, all while experiencing a really fun ride. My dune buggy was very energy efficient, but it didn't do so  well in the performance test.
There is also The Land, where you can see hydroponic farming that supplies some of the restaurants with lettuce and vegetables. Another favorite is Imagination, with Figment the purple dinosaur. It is a ride as well as a creative lab. You could spend hours.
We left the park around 6 to go back to our hotels, shower and change before dinner. We were staying at the Dolphin, which is walkable from EPCOT, and by the time we finished dinner at Flying Fish Cafe, we had walked over 27,000 steps. That is the equivalent of 11.5 miles. No, that is not a typo. No, I could not really feel my feet the next day.
I only touched on a few of my favorites this trip. I'll have to get back there soon, for a bit longer (and more on dinner at Flying Fish later). What's your favorite part of Disney World?