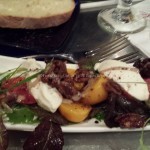 After overcoming the bad table debacle, we settled in for a nice meal. Flying Fish Cafe is located at Disney's Boardwalk, just steps from the entrance to EPCOT. It is my favorite area to stay because of the proximity to EPCOT, as well as good food.  The decor at Flying Fish is whimsical, with fish-themed artwork hanging from the high ceilings. 
An assortment of tables, booths and adjacent-to-the-kitchen counter seating make for a lively environment. The menu is seafood oriented, with salads and steaks, too. One of my favorite things is the salad made with lettuce grown at The Land pavilion. It doesn't get more local than that. The Cesar salad was delicious, too.
Before I get too involved in the food, I should mention that Flying Fish also has a good wine list. As it is Disney, it is all a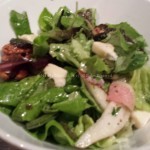 bit pricey, but we had an Au Bon Climat Chardonnay, Santa Barbara County, 2011 ($53 on the list) and a Montes Alpha Syrah, 2009 ($57 on the list). both were good choices, and given the surroundings, represented some of the best values on the wine list.
Entrees at our table included seared tuna, roasted salmon, the signature snapper in a potato crust. Each fish dish was really good, especially the potato crusted snapper. Really, anything in a potato crust is probably going to be good, so when you add a nicely cooked piece of fish to the equation,  it is hard to go wrong. Meanwhile, I was really looking forward to the cheese platter we were planning on having for dessert, so I skipped an entree and ordered a couple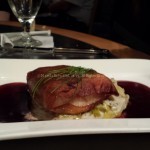 of sides, "for the table." My friend had already planned on ordering the roasted asparagus, potato gratin and spinach, so I simply added the truffled mac 'n' cheese, creamy risotto and roasted mushrooms.
The mac 'n' cheese is made with Fontina cheese and leeks and is nearly impossible to stop eating. The risotto is a similar breed of yummy. Creamy and perfectly cooked, still having a little bite, it was a close second to the pasta. Of course, I think FKGuy and our friend both preferred the potato gratin and its creamy, Gruyere-y fattening wonder. Yes, I realize these are all not diet approved, but they tasted good. I also did eat some of the (healthy) asparagus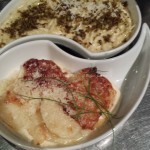 and sauteed spinach, both of which were terrific.
As for dessert? Well, we were all pretty stuffed and there was plenty of cheese and cream in the pasta and other dishes that we ended up passing on the cheese plate. I'll have to get back there soon, though.