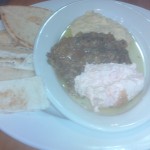 As part of a 3 Loud Women lunch meeting this week, we headed to Giorgio's Bakery to get some sustenance to carry us through our meeting and subsequent conference call. I hadn't been there in quite a while, so I was looking forward to it.
We arrived and sat at one of the large communal tables, not so much because we wanted to dine with others, but rather so we could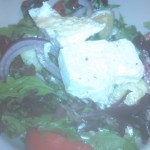 spread ourselves, and our notes, out. Since it wasn't too busy, this was not a problem.
I had a hard time deciding between breakfast and lunch… omelet? Salad? Pizza? There are a lot of good choices on the menu. We started with a trip of dips including, hummus, eggplant dip and fish roe dip served with pita. It must have been good, because it was gone in about a minute. The hummus and caviar dip were both good. The eggplant was very good, but not at all what I expected. I expected a creamy, babaganoush-style dip and instead this was more of a roasted eggplant and it was very, very tasty.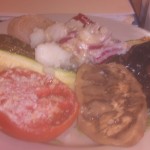 Instead of going with what I wanted for lunch (the pizza), I opted for a salad. I had the Greek country salad, which is essentially a  Greek salad over lettuce. The feta cheese was fantastic and the salad was fresh. It was a good salad.
Also at the table were a roasted vegetable salad, which was a plate full of large vegetables. More of a platter really than a salad, it did get good reviews. Finally there was a bowl of mussels, which also got rave reviews as much for the actual shellfish as for the creamy, buttery, soup-like sauce. Incidentally, this was the choice because the person doing the ordering didn't want to eat carbs. The concept of eating a lot of fat over a hunk of bread and calling it a diet makes no sense to me, but whatever. I am not giving up my bread or pasta anytime soon.
The food was good, the service was good and the prices are reasonable. Giorgio's is located at 800 North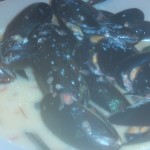 Ocean Drive in Hollywood and is open for breakfast, lunch and dinner daily.