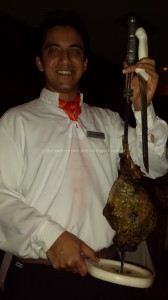 I was recently invited to try Chima, a Brazilian Steakhouse where people stroll around with huge skewers of meat, and cut off pieces for customers as they go. Friends of ours love it there, so I thought we'd give it a shot. After my last experience with this type of place (which is now closed), I ended up with a gall bladder attack. Since I no longer have a gall bladder, I assumed this time I would fare much better. 
The place is big, and there is a giant salad bar in the middle of the room. There is everything on this salad bar from cheeses, beef carpaccio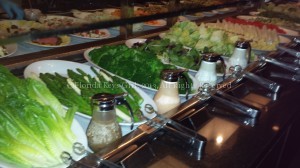 (as is you need even more meat), endive leaves with blue cheese (delish), gorgonzola mousse, smoked salmon (I combined those two items for one bite of deliciousness), soup, rice, asparagus, broccoli, oh, and many kinds of salad. I could have languished around the salad bar all day, but there was meat to eat.
Speaking of meat, there are too many types to count: filet mignon (or, filet wrapped in bacon), sirloin, leg of lamb, sausage, pork, salmon and swordfish (fortunately those two aren't served on a giant skewer), chicken, and my favorite, double cut lamb chops. We were able to request meats cooked to specific temperature (medium rare, please) and were plied with enough meat to scar a vegetarian for life.
When we were seated we were given little coins. The red side means "No, thanks, I'm taking a break and unbuttoning my pants now" while the green side means "Meat. Meat. Meat. NOW!!!!" The meats were all well seasoned (read: salty) and of high quality. It is extremely difficult to not over eat here. I'm actually not sure it is possible. Of course, at $54/person for the meats and salad bar, you want to get a good value.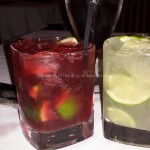 We started with a couple of Caiparinhas, one the traditional lime and one Acai berry. Our server talked us into the Acai flavored one, and although it was pretty, it was overly sweet. The lime version was delicious. The wine list is basic, but acceptable. Service was friendly, but a bit pushy (ans seemingly very interested in the upsell – more wine? Can I get you some extra side dishes? Desserts?) Frankly, I am a little surprised that they sell any desserts at all after the huge salad bar, and plate after plate of meat.
It was a good meal, and would probably be a fun place to go with a large group (of very hungry people). Would I
go back? If a friend wanted to go, I would, but on my own? Certainly not very often as it is a lot of food. Have you been to Chima? What did you think?