I am spoiled by the number of good restaurants available to me within a fifteen minute walk from my front door. So it is not that often that I will drive somewhere to eat in the Keys. On this particular occasion, we had flown into Fort Lauderdale and were heading south to retrieve our dogs, who spent 10 days being spoiled by their uncles and their BFF, Henry. We stopped at Kaya Island Eats for a quick bite before heading home. 
I had heard good things, and am pleased to say that they were all true.The place is casual, and island-y (as you might expect given the name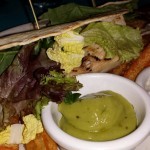 and location). What I did not expect, however, was service that was superb. Each person that we met was friendly, efficient, and eager to make sure we were enjoying our meal.
We were not ravenous, so we settled on a few appetizers and figured we would order more if needed. While the Jamaican jerk chicken wings, with a jerk aioli and goat cheese were flavorful, they were not among the best wings ever. (Mind you, they were good – we ate them all.) The other two dishes were outstanding. Fish tacos, made with fresh mahi mahi were delicious, and quite a large portion.  They are served with a fruit salsa, which our server pointed out should be put on top of the taco before eating. It was a very good suggestion, indeed. The boom shakalaka shrimp are lightly fried and served with the tastiest guava sauce. I am going to need more of the sauce in my life, for sure.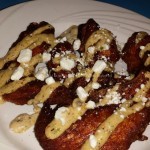 I am going to have to get back to Kaya soon, as they have a huge menu worthy of exploring – everything from coconut macadamia fish to steaks, burgers and flatbreads, and it all sounds yummy. Based on the dishes that we ate, I would guess it is a safe bet to order anything on the menu.
Kaya Island Eats is located at Mile Marker 14.5 and is open for dinner every day except Tuesday. Have you been there? What did you think?