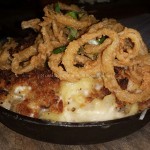 I've got three words for you: Fried. Grilled. Cheese. Himmarshee Public House, in downtown Fort Lauderdale, has recently rolled out some new menu items, and I was lucky enough to attend a media dinner tasting them all. The Public House is a lovely bar, with a huge list of craft beers and some snazzy new cocktails.
Question: Why is it when places roll out new cocktail lists, they are always vodka-heavy? Am I the only one that appreciates a good whiskey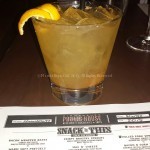 drink? Or rum? I don't think so. I did try the lone bourbon drink on the list, the Kentucky Brunch, with Makers Mark, spiced orange marmalade and sparkling orange juice. It was good, but a bit on the sweet side, so I only had one. (Shocking, I know.)
But how was the food? Delicious. It is bar food, elevated. There are certainly some diet busters (hello, fried grilled cheese, I'm looking at you…) but sometimes you just need good grub, and this delivers. The mac and cheese has smoked Gouda, bacon and fried onions. Yes, onion rings on top of mac and cheese. Short ribs are braised in a local beer, Wynwood Pop's Porter, and are delish.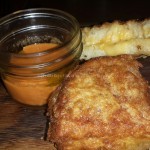 They do have a few salads on the menu, although I have yet to try them, and they are well thought out. Choose the kale and Brussels sprout salad, with optional protein for a lighter option. There is also a grilled tuna salad, which is at the top of my "to-try" list next time we are there. Oh, and for dessert there is a giant, gooey homemade cookie filled with marshmallow.
Although it seems like a place that should be open for lunch, they are only open for happy hour and dinner, starting at 4PM during the week. They do, however, offer brunch on both Saturday and Sunday. with things like red velvet pancakes and banana bread French toast. Not to fear, you can also get the deep fried grilled cheese at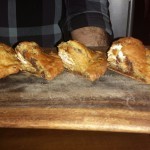 brunch.
Himmarshee Public House is located at 201 SW 2nd Street, in downtown Fort Lauderdale.