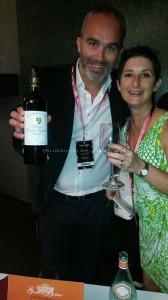 Last week I had the good fortune of being invited to the Union Des Grands Crus de Bordeaux (UGC) tasting of the 2012 vintage at LIV nightclub, in the Fontainebleau hotel, sponsored by Total Wine and More. This was one spectacular event. With 90-something wineries represented, we got a pretty good handle on a tough vintage. While the general consensus was that the weather in 2012 sucked in Bordeaux, the Merlot-based wines fared better than their Cabernet Sauvignon-heavy cousins. 
The rather large, three level room was set up by region, and the handy notebook given out at the entrance had the wines printed in order that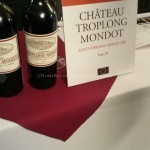 we would taste them. Very organized, and very user friendly. I love these kinds of events, where things are easy to navigate, pours are generous and people are friendly.
I was not sure how much food there would be at the tasting, so FKGuy and I had a little happy hour at Cecconi's, in the Soho Beach House, next door to the Fontainebleau. Not only is Cecconi's a fabulous restaurant, but their $4 and $7 happy hour is hard to beat. Seriously, Burrata – and a big portion of it – for $7? Crazy. Crazy good, that is. So we snacked and had a little wine before heading over. As it turns out there was plenty of good looking food, but who has time for cheese, or burgers when there are over 100 wines to taste? We hunkered down and got to tasting.
We started with the Pessac-Leognan and the whites. If you think Bordeaux is only red, you are missing out on some seriously good, and affordable white wines. Granted, my favorite of the whites (besides the $115 Smith Haut Lafitte Blanc) was the Chateau Latour-Martillac, which was fantastic, and I will be calling Total Wine today to purchase a few bottles. Note to self: stop typing and start shopping.
One of the surprise reds for me was the Chateau Coufran (which in my notebooks has a big star and the word "BUY"). It was not only delicious, but a steal at under $20/bottle. Other ones that stood out to me were the Chateau Chasse-Spleen (which I liked even before I was complimented on my excellent French pronunciation), and was surprised to learn that it is 55% Cabernet Sauvignon and 40% Merlot, with a little Petite Verdot. FKGuy loves the Saint Julien wines, and I cannot disagree. Some of the best were the Chateau Beychevelle. I also have a soft spot for the Beychevelle, as we had a 1986 vintage on a cruise with friends several years ago.  I also enjoyed the Pichon Longueville Comtesse de Lalande (another table where my French was complimented). 
I should note that although people kept complementing my French, I really only know a few words, and those words are all wine or food. That can be our little secret.
Overall, this was a fabulous event, and Total Wine did a great job of organizing it. As it is a tour of several cities, I hope that those going to the other events will enjoy it as much as we did.