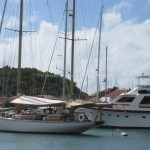 This summer, I am planning a trip to Vancouver, followed by a cruise to Alaska. As we will be traveling from Key West, we are only allowed one checked bag. This is almost a two week trip, with many wardrobe and climate changes, so it will be a challenge. But I am up to the task. My clients are always asking for packing tips to save money on bag fees, and just make things a bit easier. Here you go, my top tips for traveling light:  
Keep all documents in one place. This one actually starts before the trip, when you begin planning. As you start reserving your airline tickets, car rental, hotels or whatever else you may need to reserve, it is a good idea to print out your confirmations and put them all in one folder, clipped together. That way, when it is time to leave, you can pick up one item and go; not search for things at 2:00AM before your flight. Another handy tip is to keep these documents in the order that you will use them, for example: flight confirmation first, rental car second, hotel third and so on.
Pack light to avoid fees. With more airlines charging you to check a single bag, it is more important than ever to be efficient and minimize the amount of baggage you have. Plus, the less you have, the less you have to schlep around with you. For trips of 5 days or less, you should be able to fit everything you need in a carry-on. Longer trips may require you to check a bag. Decide how much you are willing to take and stick to it. Now, during the summer you may need more than 3 ounces of sunscreen, which you cannot take in a carry-on anymore. If that's the case, buy it at your destination. In the developed world, you can find a pharmacy or mass merchant to sell you just about everything you need, in case you have forgotten something. If you are traveling to a developing country, well, that is a topic for a different post. Give me a call and I can help.
Less is more. When deciding what clothes to take, assess what you will be doing on this vacation – is it a cruise with formal nights? Will you be hiking in a national park? Lounging on a beach at a resort? Take out the clothes and shoes you think you will need for each activity and sort by type of clothing and for what purpose it will be used. Now, (and this is the hard part, folks), take AT LEAST one third of it and put it back in your closet. Think about the events that you need specific items for, and take those, but minimize the other stuff. Chances are, you will end up wearing the same pair of jeans all the time anyway. By the way, this totally applies to shoes, too. My plan for the summer is to do a little laundry halfway through, so I only need half as many underwear, tee shirts, yoga pants, etc. As for the shoes? I will bring one pair of lightweight boots, a lightweight hiking shoe and a pair of evening shoes. That is it. Considering that we are doing everything from skiing to a helicopter landing on a glacier, to hiking and have a few formal nights, I think that is pretty good.
How is your memory? No, I am not talking about recalling your high school algebra, I am talking about your camera. Have you cleared off your memory cards to make room for photos from this trip? Have you packed an extra memory card and your charger? If you are going overseas and are planning on bringing any electronics – like the aforementioned camera – you will need a voltage converter to charge them, so add that to your list, too.
Make your trip memorable for the fun things that happen, not the giant suitcase falling on your foot at the train station. Of course, I speak from personal experience with the foot and train station thing. That was the last time I packed more than I needed for a trip, and that was over thirteen years ago.