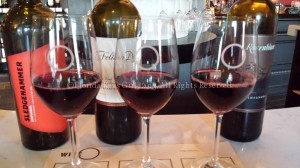 Downstairs in the La Concha hotel, facing Duval Street, sits Wine-O, a new wine bar/retail shop. I was invited to check it out, and since I never turn down wine, off we went. I am always eager to check out new places, especially if there is food and wine involved. 
The space is gorgeous, with two circular bars, huge circular chandeliers, a bar by the window to watch the Duval Street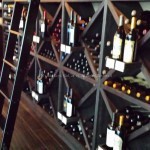 craziness and a couch and some chairs. As for the wine, you can choose a flight of three wines, each with a 2 ounce pour, or just order a glass or a bottle. It is a retail shop, too, and there are about 225 different by-the-bottle choices. Best part? You can buy a bottle, at retail pricing, then sit and enjoy in the bar. They even have a blast chiller to make sure your selection is served at the proper temperature. The "wine attendants" (bartenders) are all trained and can talk about wine, as little, or as much as you would like.
We did not commit to a bottle, but rather tried some of the flights. I had the Zinfandel, while FKGuy tried the Pinot Grigio and my parents both had the Pinot Noir. The Zins were all from California, and included Sledgehammer, Folie a Deux and Rosenblum, and is $9 for the tasting. The flight comes with a small cardstock mat with a description of each wine. The Pinot Noir tasting included one selection each from California, Oregon and New Zealand. It is a good way to try a few different things. But next time, we will for sure be buying by the bottle. The selection is just that impressive. OK, it may not be so impressive on South Beach, or in New York, but it is the broadest selection I have seen in Key West. By a lot.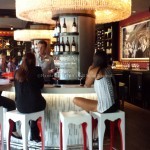 My one complaint about the experience is this: although the bar stools are beautiful, as is the couch, they are not very comfortable. I think that if they want people to hang out and consume multiple bottles of wine, the seats may need to be changed out.
The question is always: would I go back? Undoubtedly. And soon. In addition to all the awesome wine, they have a full Godiva shop, perfect for gift buying. Live music is currently Monday through Friday, but they are int he process of adding weekends. Bonus: if you are a Key West local (and can prove it), they will give you 10% off your total purchase.
Wine-O is located in the La Concha Key West hotel at 430 Duval Street, and is open daily from noon – 11 PM and midnight on Friday and Saturday. Have you been there yet?