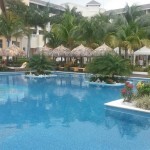 I book clients all the time at various all-inclusive resorts throughout the Caribbean and Mexico, but until last week, I had never stayed at any of them. I had visited several properties for the day, but never as a full-fledged guest. After going back and forth, we settled on the Iberostar Grand Hotel in Montego Bay. 
First of all, there are several nonstop flights from Fort Lauderdale and Miami to Montego Bay. This is not terribly important if you are going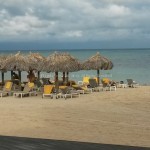 away for a week or more, but we were going for 3 days, so we needed to maximize our pool and beach time, and minimize the time spent getting to and from the resort. The flights were easy, customs was a breeze, and we made it to the hotel so quickly the front desk people didn't quite know what to do with us. Not to worry, we were told, we were going to be upgraded to an oceanfront room, and it would be ready in 45 minutes. Meanwhile, we were given wristbands and shown to the lunch buffet.
My first impression of the food was that we were in for a treat. The buffet had the usual meats, burgers, hot dogs, a huge selection of cheeses, plus some Jamaican specialties. They also had made to order pasta, which was obviously my first stop. Wine selections consisted of mostly inexpensive, but drinkable Spanish wines (both white and red), although the sparkling wine was pretty awful unless it was helped along by orange juice.
As we finished up a delicious, if eclectic, lunch, we headed back to the front desk to get our room keys. The gentleman checking us in said that he had not been able to reach the housekeeping supervisor to insure the room was properly cleaned, but he would go check it out and make sure. We were welcome to come along and make sure the room was acceptable. It was.
The room has a hallway with closets, a safe, mini bar (stocked, and included in the cost) and coffee maker. The giant bathroom is complete with two sinks and a jetted tub, plus a stand alone rain shower. The bedroom is ample size with a king bed (they also have two queens), a step down to the living area, and a large balcony with a sofa and great-for-napping swing. Two thumbs up.
Every room on the property comes with butler service, which some people think is terrific. I am sure if you need a lot, it would be helpful to have a point person, but I felt the communication lacking between butlers. The first butler we met would not be there during the remainder of our stay, and as such, did not actually take care of many of the things he promised (like an additional pillow). None of these were a big deal, or I would have just asked the next person, but it was strange nonetheless. Housekeeping was quite good, and somehow managed to clean the room every time we left, or so it seemed.
The rest of the property is just magnificent. From the three huge, sparkling pools, one with an infinity edge, to the ample sun beds and lounge chairs, it looks just like the website photos, and that is saying a lot.
The Grand Hotel is part of three Iberostar properties and is the only one that is adults only. While we were welcome to use the facilities at the other two resorts, the other resort guests were not allowed to use the facilities at the Grand, keeping it quiet and peaceful.
More on the food, bar service and activities in the next post!