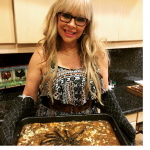 I love all things food television. From Top Chef to Masterchef and Chopped, any time someone is cooking on TV, I am likely watching. It all started years ago with Sara Moulton and Cooking Live, and while she was cooking she would take calls from viewers and answer questions. I loved that show.
Last week, just before the MasterChef season premiere, I had a chance to chat with one of the contestants, Veronica Cili, about her experience on the show. Veronica is originally from Key West, and now lives in Miami with her family. We had a lot to talk about. Read on for a tale of sneaking around, custard and a competitive advantage.
FKGirl: I find it funny that any time you see anyone from Florida on a reality show, everyone in the entire state gets excited by having a "local" on the show. But it is a big state! So, you are from Key West originally, and now live in Miami. What do you do – or did you do – before MasterChef?
Veronica: I am an independent beauty consultant with Mary Kay, and have been doing that for the past four years. Before that, I was a stay at home mom and an inspirational speaker, speaking at churches on various subjects.
FKGirl: How did you get from Mary Kay to MasterChef?
Veronica: Well, actually, I am very well known in my family – known as the "Cili [pronounced "Chili"] Nation" for my cooking. I love to cook and feed people. My family knows that I cook from a place of love. So, my husband went behind my back and set up an interview for casting. I always watched the show and kept saying that I would be great, and you know, people say that all the time and don't follow through.
Veronica and her husband have been married for 42 years, so it was a safe bet that he knew what he was getting into by applying on her behalf. Apparently, he said that she had given her entire life to her family up until now, and it was her turn to do something for herself.
FKGirl: So… what are your favorite dishes to make?
Veronica: I really love Italian cooking and decadent desserts. I always have my family over on Sundays for an Italian dinner, whether it is homemade manicotti or homemade pasta or lasagna or raviolis… But I just love, love, love desserts. I am known as the dessert fairy. Whenever I go anywhere – doctors appointments or to meet a friend – I always have in my hand a decadent dessert. It is my signature.
FKGirl: How do people, for example, in a medical office react when you randomly show up with a pie? Does it get you out of waiting?
Veronica: Most people react like a little kid, when it's their birthday and nobody knows it is their birthday, and I brought them a birthday present. They are flabbergasted.
FKGirl: It seems that most contestants lack baking skills, and are afraid of dessert challenges. Do you think that is a competitive advantage for you?
Veronica: This season came with extra challenges. Joe [Bastianich] is no longer there and Christina Tosi is, and she is an expert pastry chef. It is life altering cooking for her. She is an amazing teacher, and a pastry beast. But, yes, I always felt like my pastry skills give me the upper hand. But, I still need to cook in front of these impressive judges.
FKGirl: As a viewer, I keep hearing contestants yap about how they have learned so much on the show. Do you get any kind of lessons, instruction or demo?
Veronica (and the MasterChef PR person): No, there are no lessons. The judges give feedback and tips while we are cooking,  and on occasion there will be a demo, which is shown on tv, as part of a challenge. But the bulk of the learning happens while the contestants are cooking. If Gordon [Ramsey] goes around tasting and a dish needs seasoning or doesn't taste right, he will let you know. Having three of the top chefs in the world talking to me about my cooking is a great learning experience.
FKGirl: What advice would you give other home cooks who are interested in trying out for the show, or are just interested in bettering their skills?
Veronica: My reason for going on the show was to inspire and light a fire under home cooks, especially moms and women, who have been cooking for their families. Go for it! Try out, and go for the gold. You should do it. You should try out. I will cheer you on.
FKGirl: Um OK. We will see about that. But, I will tell you that my mission in life is to bring back the dinner party. We don't do it enough, and there is a bit of an intimidation factor putting yourself out there cooking for others.
Veronica: Fantastic! My mission is to bring the family back to the dinner table, so we are on the same page. I talk to a lot of moms and their kids are all over the place. At home, over the dinner table, relationships are rekindled. I like to tell people to "come to the tree", as my husband made me a dining table out of a tree, and it really is a symbol of coming home. 
We dished about creme bruleé, soufflés and easily impressing dinner guests. I also found out what Veronica made in the battle round, as that was glossed over on the first episode. The winning dish was a fig and pear custard pie. I'm not exactly sure how that can be done in thirty minutes, and now am even more impressed. Veronica credits her dad, originally from Alabama, with teaching her the keys to getting this far: key lime pie and how to make the perfect custard.
As always, I am looking forward to seeing how this season plays out. Tune in and let me know what you think of this season's contestants.