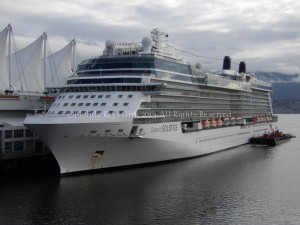 After touring the beautiful Celebrity Equinox a few months ago, I was eager to board the sister ship, Celebrity Solstice, for a week in Alaska. Alas, the excitement was quashed just a little when, starting two weeks before departure, Celebrity started sending us emails, texts and calling us to let us know that there were going to be three ships in port on the day we embark in Vancouver. Apparently, the Port of Vancouver is not actually equipped to handle the number of passengers both embarking and disembarking that day, causing lines and frustration. We were told that boarding would be between 12 -4 PM (instead of the usual 10:30 – 3PM).
Knowing there would be crowds, we ate before boarding, which, in retrospect, was nothing short of genius. After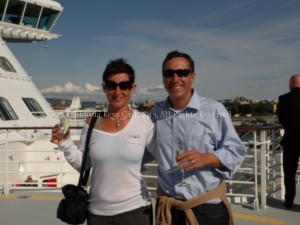 waiting about an hour in a huge room with passengers getting on the Solstice as well as the Holland America Westerdam and the Grand Princess, our number was called and we were welcomed to yet another line, this one for customs. Following that, security and Celebrity check in were a breeze. After our hour long stint in the holding cell, warehouse, large room with one small water cooler, we were onboard, bubbly in hand within thirty minutes of entering the security line. Not too bad, all things considered.
We boarded around 3 PM and our room was ready, so we dropped our carry on luggage and went off exploring the ship. The last cruise we were on was the Seabourn Sojourn, where the whole "exploring the ship" process took about four minutes. The Solstice is much larger, so we started at the top and worked our way down.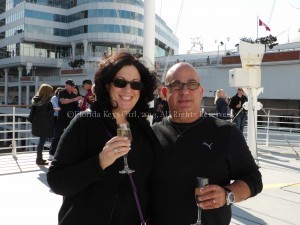 First was a brief stop at a table set up outside the buffet to upgrade our drink package. As part of a promotion, we had the Classic Beverage Package. We also had a significant amount of onboard credit from both Celebrity promotions, and our credit card. Given that we are wine drinkers (and bourbon, and tequila and cognac…) I wanted to upgrade to the Premium Beverage Package for a bit more flexibility. The whole upgrading process took about twelve seconds and we were on our way to grab the first of many cocktails. While upgrading the drink package may not be a necessity for everyone, I can tell you from our experience it just made it all easy. I never wondered if what I was drinking was included, or if I would have to pay separately for it, because for the most part, it was all included. Pelligrino with lunch? Included. Cappucino for breakfast? Included. Baileys and coffee after being awake for hours on end and freezing on deck while cruising Tracy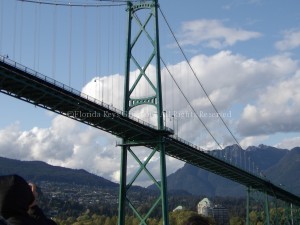 Arm Fjord? Included. Cognac, just because? Included. Cruise tip: Celebrity does not force both people in a room to upgrade the beverage package, so if only one person wants to do it, that is OK.
The Solstice class ships are not only beautiful, but user friendly. Although the ship is very big, it doesn't take too long to get from one place to another. Cruise tip: Take the stairs. With all of the delicious meals happening (and snacks, and burgers at the Mast Bar, and…) it is helpful to burn a few extra calories by taking the stairs as often as possible. This ship has thirteen passenger decks, so it is pretty easy to get a mini workout in, while on the way to the buffet.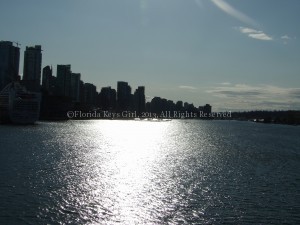 Because of our late boarding, it was soon time for the muster drill, then sail away. The muster drill, where passengers are provided safety and evacuation information is a must on every cruise. Cruise tip: Don't be the jerk that is late to the muster drill, or thinks you don't have to show up. They can kick you off the ship for not attending.
On the other hand, Note To Cruise Lines (all of them): Could you please try, just a little, to make the videos slightly humorous? I understand that safety is serious business, but if you could inject just a few laughs, it would really help us all to pay attention and not count the seconds until we can hit the bar again.
Once we were bored to tears, sufficiently briefed on safety, we headed to the helipad for sail away. This party was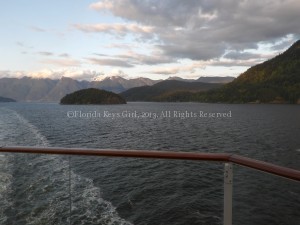 invitation only, and I will tell you, it was awesome. The helipad is at the front of the ship, and in addition to beverage service, we had fantastic views of Vancouver and the Lion's Gate bridge as we departed. During this time, we met a few officers. The casino manager, who happened to be from Vancouver, and mocked me for not having the guts to do the Grouse Grind. Next time, I am all in. We also met one of the housekeeping managers, who let us know that our ship would be sailing the entire inside passage, instead of going around Vancouver Island. This was a huge surprise, as the Solstice is the largest ship ever to sail the inside passage, and the captain had just received clearance for the new route. The result? A beautiful, scenic, calm journey up to Ketchikan, with several orca sightings.
After we got underway, it became painfully clear to me that my long sleeved t-shirt and yoga pants were not really going to cut it, as winds picked up and temperatures dropped. And then the blankets started coming out. The Celebrity crew was right there with blankets (I used two. I am from Florida. It was colder than our winters.) and hot chocolate. After chatting with a bunch of nice people and guzzling hot chocolate, it was time to return to our suite (Sky Suite #9299, more on that in the next post) and get ready for dinner.
Well, FKGuy was able to change. My luggage did not arrive until about 7:55 PM, so there was no changing for dinner on the first night. We made our way to Luminae, the suite-only dining room for the first of many fantastic meals. Read more about dining aboard the Solstice  in Friday's post.
Ready to book a cruise? Give me a call. I am a full service travel agent and can guide you towards the best vacation for you!