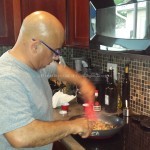 Sometimes we take for granted that our friends are always available for us. Sometimes we take for granted the nice things they do. This week, I was enjoying every second of it. 
While we were cruising through Alaska aboard the Celebrity Solstice, we enjoyed dinner in Murano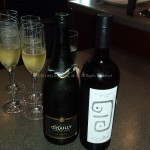 one night, complete with tableside Steak Diane. The 1970's called and said they wanted their food back, but I was having none of that. I droned on and on about this dinner for days. It was fantastic and worth discussing at length. I learned (in my incessant yapping) that many of my peers did not know its awesomeness. They were clearly missing out on a steak sauteed in a creamy, mushroom-y, cognac-y sauce.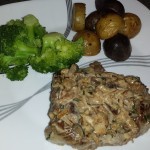 Although I do enjoy preparing a meal, this week I left it to others. My friend Bob frantically began seeking out the Best. Possible. Recipe. The winner was penned by Gordon Ramsey and calls for Grand Marnier instead of cognac. Bob also made broccoli and potatoes, and although both are delicious in the sauce, it was hard to eat anything other than that beautiful, rich filet.  Until dessert.
Bob nailed it with the Steak Diane. In fact, it was so good, I said we would come back for it again soon. Too forward? Whatever. He is an expert now. And we can walk to their house, making imbibing easy.
I tried to purchase Jeni's ice cream for dessert, but alas, their website sucks and several of the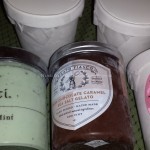 places listed in Broward County as carrying their product, in fact do not. Oh well. I managed with two other types of gelato (Talenti Moroccan Mint and Gelato Fiasco Chocolate Caramel Sea Salt). Bob had also picked up 3 pints from Azucar in Miami.
Any time I can taste five types of ice cream, and go back for seconds, it is a good night. Perhaps my favorite flavor was coffee Oreo cookie. It is possible I will have to take a trip to Calle Ocho just to visit Azucar again.
Once I came out of the sugar coma, it was time to do it all again. This time we were invited to dinner at the home of other friends. Fortunately, we can also walk to their house, as one of the dinner guests may have brought 10 bottles of wine that had been opened that day for a tasting and would otherwise have gone to waste. We can't have that. FKGuy and I also brought a couple of (unopened) bottles, so there was plenty for seven people to drink.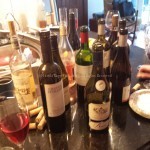 Note to anyone that ever invites me anywhere: if you let me stand near the guacamole, I will eat it all.
We continued on with bison burgers made with pomegranate seeds and Feta, on a pretzel roll, and sweet potato fries. Not only was the food excellent (I did not see any leftovers), but it looked exactly like the photo in the recipe. You know, the photo that had been styled and fussed over until it looked perfect?  This one came off the stove that way. Scrumptious!
Another night, another friend serving a fabulous meal. A girl could get used to this very quickly. While I will have to come up with my own dinner plan tonight, tomorrow we will go to the home of other friends, who are also fabulous hosts. I am loving every minute of the experimentation, new friends and old, and of course, any excuse to eat ice cream in abundance.