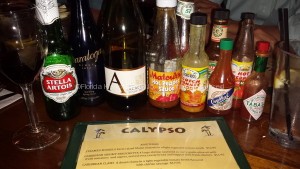 The casual, island feel of Calypso Restaurant and Raw Bar is inviting and warm, but it is the food that keeps me coming back. Over sixteen years ago, when FKGuy started a job in Fort Lauderdale, a friend who worked nearby started listing all the decent places for lunch. There weren't many, but Calypso was among the suggestions.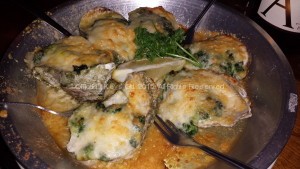 Now, many years later, we have been there for lunch and dinner, again and again. Our most recent visit was earlier this week with a group of friends. I began plotting out my meal around 10 AM. What would I eat? The menu is chock full of many good choices, with specials listed on the chalkboard in the dining room.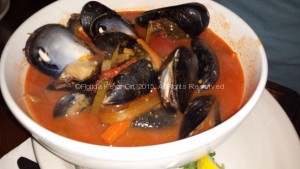 We arrived to find our friends seated, and quickly ordered wine (Pinot Noir, A by Acrobat, $37 on the list), and started perusing the food options. Everything I have eaten to date has ranged from amazing (95%) to good, and service is friendly and efficient. Although we did not have it this time, the smoked fish dip is outstanding and among the best I have had anywhere.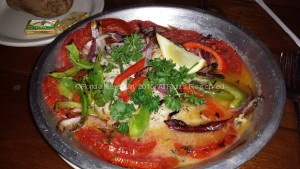 Instead, FKGuy and I started with the Oysters Rockefeller, covered with spinach and cheese and baked to perfection. Yes, I picked the crusty, baked-on cheese off the plate. No, I am not embarrassed by that. I have several friends (one of whom was at dinner with us) who will disagree with me on this one, but I am firmly in the cooked oyster camp. I just don't like the raw ones. A friend had the mussel appetizer, in a giant bowl of steaming broth and vegetables. Everyone agreed that they were yummy.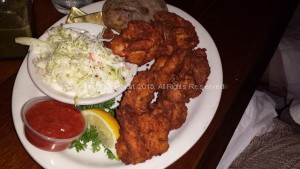 It was a tough call on the entrees as the choices seem to be endless, and everything on the menu is fresh. I opted for the flavorful and satisfying Bahamian style dolphin (mahi-mahi), baked with tomatoes, peppers and onions. FKGuy went with the dolphin curry, in a rich and succulent sauce, served over pigeon peas and rice. Another friend had the seafood gumbo, with shrimp, scallops, clams, mussels and fish in a beautiful tomato-based sauce, while someone else had perfectly fried shrimp. Calypso has the best fried shrimp anywhere, and if I weren't trying desperately to be slightly healthy, I would have come around the table for a taste.
Each entree comes with a choice of two side dishes (pigeon peas and rice, steak fries, black beans, spicy cucumbers, potato salad, cole slaw or a vegetable) as well as a salad. It's a lot of food.
The only downer was an order of basil mustard chicken wings. The basil mustard sauce is also a choice for fish, and I am certain it would be delicious on a piece of grilled fish, but on the wings, it was just weird. Plus, it gave them an unfortunate green hue. You should know, the wings were not bad, rather just strange. Instead, stick with the habanero hot wings. Those are outstanding.
Dessert offers many choices, including key lime pie, cheesecakes, bread pudding and more. Our friend chose the coconut mango cheesecake. It was divine. The coconut coating and filling laced with mango, make this dessert not overly sweet and a perfect end to the meal.
Calypso is a great choice for lunch or dinner, Monday through Friday, and they do not take reservations. They are located in an unassuming shopping center, beside a Chinese take out and laundromat, at 460 South Cypress Road, in Pompano Beach, Florida.