Key West boasts a plethora of great restaurants, and it is impossible to frequent them all. We hadn't been to Michaels in ages when friends came to town, reserved, and said, "we'll meet you there!" The outdoor seating is beautiful, the food is good, but it is pricey (even by Key West standards). Michaels had fallen off the radar.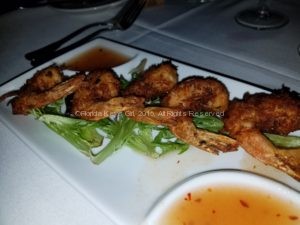 I have always despised the drab interior and its overwhelming feeling of a living room that hasn't been spruced up since 1970. The outside garden, however, is lovely, and we can eat outdoors nearly all year. Bonus: the fondue at Michaels is only available in the bar, which happens to be in the enchanting garden.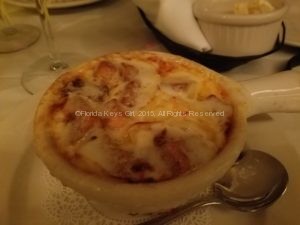 FKGuy and I shared an onion soup (hey, it was 75 degrees in January – that is cold by Key West standards) and coconut shrimp. The flavorful soup comes in a crock, with cheese melting off the sides of the bowl in bubbling brown pockets of yumminess. (I will note that there is a local French restaurant that I happen to like, that serves their onion soup in a square, flat bowl. It is utterly disappointing.) Five perfectly fried shrimp served with a tangy chili sauce were a delicious, if not particularly inspired, appetizer.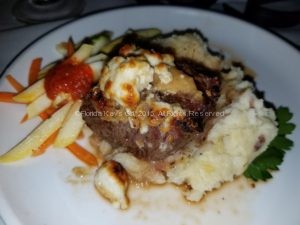 One of the things I like most about Michaels is their Lite Side menu. Despite the misspelling, it offers an array of smaller portions of favorite menu items, enabling me to enjoy an appetizer and entrée without too much guilt. I enjoyed the Petite Filet, topped with Roquefort and roasted garlic. As I cut into the steak, it was nearly raw, not the medium-rare ordered. That slip up was quickly remedied, and I ended up with a tasty dinner. FKGuy and one of our friends both ordered the Lite Side meatloaf. Neither could contain their excitement about their perfect choice of meal. (They have both decided they will go back, many times, specifically for the meatloaf.)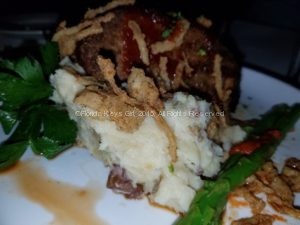 Not a meat eater? Not to worry. Our other friend enjoyed the fresh snapper muniere, with artichoke hearts and lemon brown butter. The tender fish is a good alternative to some of the heavier things on the menu.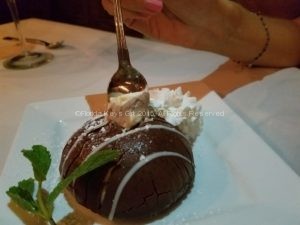 We had just said no thank you to dessert when a mound of chocolate, covered in more chocolate, and served with whipped cream, showed up at our table. Apparently, someone felt sorry for my undercooked steak. The chocolate mound of goodness was enjoyed by four people, each claiming they could not possibly eat one more bite.
I may have regretted not getting the fondue, because, well, one really can't have too much bread doused in melted cheese in one's life, right? But all of the food we had was splendid, and I am looking forward to a return visit.
Michaels is located at 532 Margaret Street, in the heart of Old Town Key West. They are open nightly for dinner, and if you want the fondue, make sure you sit at the bar.