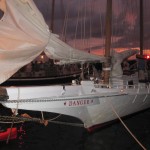 When people plan their vacations in Key West, it often involves a sunset cruise. After all, it is the postcard image of Key West, right? A beautiful sunset with a sailboat in the picture. So, last weekend, with guests in town, we took them on a sunset cruise. We chose Danger Charters Wind and Wine sail.
We arrived at the Westin dock and were somewhat concerned by the number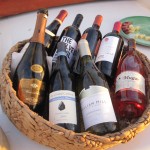 of people we saw milling about. How were they going to squeeze all those people onto their rather small sailboats? Was this going to be overly crowded? As it turns out they had more than one boat sailing that evening. as people arrived they were given color coded boarding passes indicating which cruise they would be taking.
We gathered our boarding passes and along with some other people followed the captain on board right about 6:15 PM. The crew immediately jumped into action to get us off the dock quickly so we did not get caught in the traffic of other boats leaving at the same time.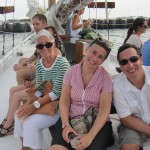 Once we were out a ways, the crew introduced themselves and explained the wines they would be serving. There were eight choices and we could try all or just one. The selections were good – certainly better than wine you would get on any other sunset sail. There was a bubbly, a rose, several whites and several reds. All in all, delightful.
For the non-wine drinkers on board they also served beer (several kinds) and water.
While I certainly wouldn't say this is the best wine tasting I have ever done (I've been to more than my fair share of great ones), I will say this: It is a pleasure to go out on a sunset sail (or some might call it a booze cruise) and not only be able to have decent wine, but also have choices. I thought the wines were well thought out and fit the experience perfectly.
In addition to the wine, there were also quite a few appetizers that the crew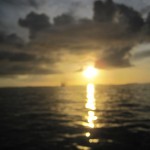 walked around serving. From crudite to cheese and crackers, it was all nicely done and served with a smile.
Our sailing had eighteen passengers and four crew members, which left us wanting for nothing. i would definitely recommend Danger for the simple fact that the boat is not crowded, the staff excellent and the wines are good, too. What more could you want? I am already looking forward to my next time aboard.