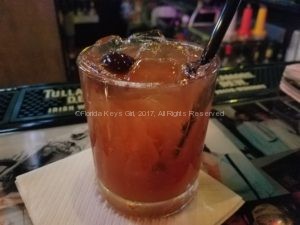 While having brunch at Azur with friends recently, there were multiple conversations going on at once. After all, six loud people plus mimosas will do that. I was chatting with on friend when I heard overheard something interesting. "…and they have Old Fashioneds on tap…" was enough to make me stop mid-sentence to find out more. Apparently, he was talking about Mary Ellen's Bar.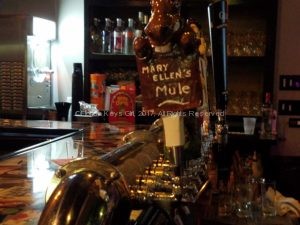 Make no mistake, Mary Ellen's is a dive bar. In addition to the Old Fashioneds and Moscow Mules they have on tap, they also have Frozen Irish Coffee. I will, undoubtedly, try that next time. This visit was all about the Old Fashioned. Oh, and the grilled cheese.
We sat at the bar and contemplated our drink order. Just kidding, I knew before walking in the door what I would be enjoying. FKGuy and I both had the Old Fashioneds, and they were delicious. As we sipped, the next order of business was food. What to eat?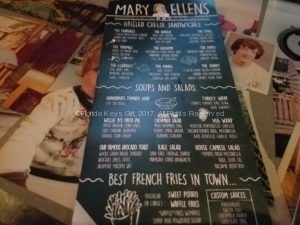 The menu is largely grilled cheese sandwiches. Other options include tomato soup, Frito pie, a few salads (why?), and fries with many different sauce options. I ordered from the walk up window, available either in the bar or streetside if you are just passing by. One "The Florence" grilled cheese, one cup of tomato soup, and one Frito pie. We chose the Frito pie after watching a recent episode of Diners, Drive-Ins, and Dives, which showed a place making Frito pie. FKGuy was incredulous. "Is that really a thing?" And then there we were, eating a Frito pie and drinking cocktails on tap.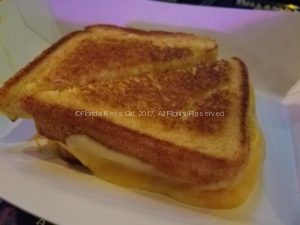 "The Florence" sandwich is Cheddar, Havarti, and Monterey Jack on Texas toast, and it is everything you want your grilled cheese to be: gooey, toasty on the outside, and of course, cheesy. I added tomato, making it truly perfect. Next time I am sick, I will make FKGuy get me this sandwich. (That is saying a lot.)
The tomato soup is billed as Grandma's recipe, and it seems that Grandma is a good cook, because the soup is delicious, warm, and comforting, Just like tomato soup should be. And the much anticipated Frito pie? It's served in a bag of Fritos with chili, cheese, onions and sour cream. While it is tasty, there are way too many corn chips in relation to how much other stuff is in there. To me, it is more of a novelty than something I would eat on a regular basis. The grilled cheese, however, is a different story.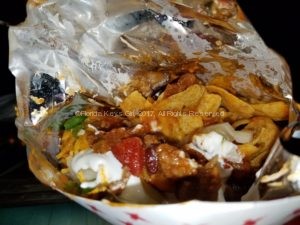 Then there were fries. With a whole menu section dedicated to them, it seemed like we should give them a try. Now that I know how delicious they are, it will be near-impossible to avoid them on future visits. Most of the custom fry sauces are ketchup based (and I am not a fan), or mayo based (damn egg allergy!), yet I found a peanut sauce that was yummy. FKGuy enjoyed the "wassup", a wasabi-ketchup creation.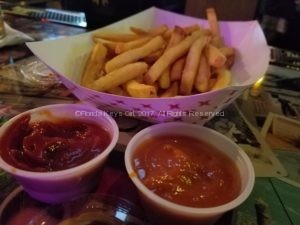 Mary Ellen's is a good addition to the local bar scene, and while they do have food, it is primarily a bar. Patrons place their food orders at the window and pay for it separately from the bar tab. Go, enjoy a grilled cheese and an Old Fashioned. You'll thank me.
Saunter into Mary Ellen's Bar at 420 Applerouth Lane, a tiny lane between Duval and Whitehead Streets. They are open until 4 AM.