Our week in Panama and Costa Rica was mostly at sea level. We were on boats, hiking, viewing wildlife, and lounging in the warm water. After disembarking the cruise ship, we met our driver and guide and headed to Poas Volcano. It is neither warm nor at sea level. It was quite a shock to our systems. 
One thing to note about Costa Rica is that it is a small country, but because the roads are windy, it takes a while to get from place to place. It is no place to be in a hurry. Here's the other thing: if you get motion sick, be sure to sit in the front, and take a pill. Meclizine is my friend, and so is the front seat.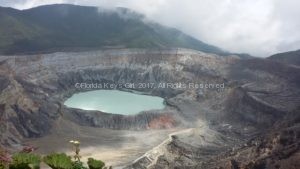 I startled our guide when I insisted on sitting in the front, but I was not taking any chances. Our day started at 8 AM, and we would arrive at the airport around 2 PM. I had no time for queasiness. As we arrived at the volcano parking lot, our guide was suddenly feeling the effects of the winding roads. Suddenly my sitting in the front seemed like a stroke of brilliance, rather than just being a pain.
Poas Volcano
A blast of freezing cold air greeted us upon our exit from the van. OK, maybe it wasn't exactly freezing, but after a week of swimsuits and shvitzing, the sixty-five-degree breezy air was surprising. We quickly grabbed our jackets and made our way towards the volcano, along with tours from our ship (yes, we saw people we knew at the volcano), teenage tour groups, and others. The viewing platforms at the volcano get incredibly crowded, and there are signs posted telling people they need to leave after twenty minutes.
We took a few selfies and then moved on to the hiking path, where the tree canopy and cool air created an atmosphere of dark, eerie calm, but it seemed much later than it actually was. At about 10:30 AM, it felt like evening. Our reward at the end of the dark path was a beautiful, calm lake view.
Where the Strawberry is King
Making our way out of the volcano, back down the narrow, winding road, we passed several people on the sides of the road selling baskets of strawberries. Big, beautiful fruits for about $1/pound. I resisted the urge to cram as many as possible into my bag. The Department of Agriculture is kind of pesky about those things, and, I don't think they would have survived the journey intact. Oh well. Now I settle for grocery store strawberries, and am sad about it every time I buy them.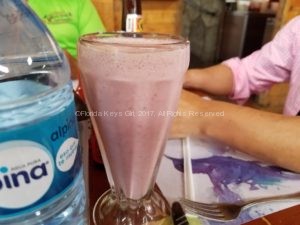 Freddo Fressas, a restaurant down the road from the volcano, was the choice for lunch. I spotted quite a few people enjoying the namesake fressas con leche, essentially, a strawberry milkshake minus the ice cream. Those amazingly fresh, plump Costa Rican strawberries are blended with milk, and turned into something magical. There is another option: fressas con agua, which are strawberries blended with water, but why? The rest of our lunch – casado for FKGuy and arroz con pollo for me – were tasty, but the highlight was the strawberry shake, by a mile.
Full of strawberry goodness, we made our way back to the car, did a bit of souvenir shopping, and headed to the airport for our return flight. It was a fantastic vacation, and I am looking forward to a return visit to Costa Rica someday.