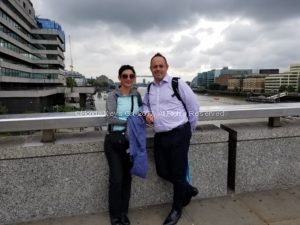 Last year we sailed on the Seabourn Quest from Fort Lauderdale to Monte Carlo. On a sixteen night trip, with twelve sea days, you are going to meet people, whether you want to or not. Though we went on the trip with friends, we made even more friends along the way and had the pleasure of visiting with one of those new friends in London.
WALKING TOUR WITH A LOCAL
Our friend was able to tear himself away from work to give us a fantastic walking tour of the city. We started at the top of a 24-story tower in the City of London, still under construction. With sweeping 360-degree views, we saw all the famous buildings in one climate-controlled stop.
The City of London is the financial hub of London and is a small part of the sprawling metropolitan area. In fact, it is just over one square mile, and is famous for the Great Fire in 1666, started in a bakery on Pudding Lane. Many people think the name Pudding Lane was from the bakery, but apparently, pudding is a medieval word for offal, and actually refers to the offal that would fall off the carts from the butcher shops up the street, en route to the waste barges. That could not have been a pleasant smelling street.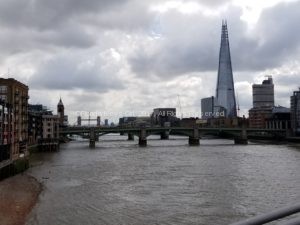 From there we headed to London Bridge. After decades of repairing the bridge, someone had a genius idea to sell the old bridge and build a new one. The American that bought the bridge thought he was buying the beautiful, impressive Tower Bridge, and ended up with a crumbling mess. Oops. It is now in Lake Havasu City, Arizona.
Thoughts of offal behind us, we meandered across the Millennium Bridge, a steel suspension bridge from the City of London to Bankside, also known as the Wobbly Bridge. Apparently, when the bridge opened in 2000, pedestrians felt it wobble all the way across the Thames. It was closed shortly thereafter for repairs, and though it no longer wobbles, the name stuck.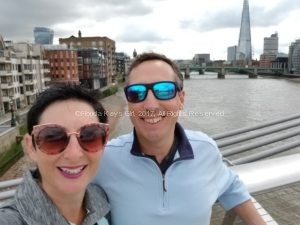 We bid adieu to our friend, and made our way to the Tate Modern, a huge building that formerly housed a power station. The layout of the two-building museum includes many small, easy to navigate galleries. Because the rooms are small, the crowds aren't overwhelming, making everything accessible and enjoyable. The Tate Modern is certainly worth a visit. Plus, the main galleries are free, though some special exhibits may require tickets.
THE ACCIDENTAL MICHELIN-STARRED LUNCH
We had walked over six miles by that point, it was lunch time, and we had a vague plan: Chinatown. After a quick Google search, we picked a restaurant and headed in the direction of Chinatown, on foot. As we trolled through the crowded streets, every restaurant was packed with diners, except the one we chose. We quickly aborted, went back to Google and found another place. When we walked into Yauatcha, the atmosphere was fancier than I would have expected, and though we did not have a reservation, we were seated promptly downstairs. We did not know at this point that we were at a Michelin-starred restaurant.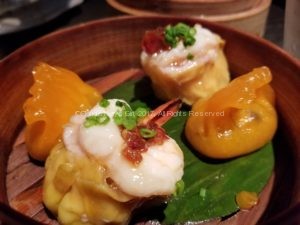 The overwhelming menu has every kind of protein, in seemingly endless sauces, and more dumplings than I could eat in a lifetime. It was 2 PM, we had been walking around since 9 AM, and I was in no mood for those kinds of important decisions. Fortunately, they had several tasting menu options, and we had an excellent server. When I asked her what we should do, she quickly steered me away from the £55/person menu, saying it is way too much food. Instead, she directed us to the £30 for two menu, a far more reasonable option, and if we wanted something else, there is a twenty-page menu full of choices.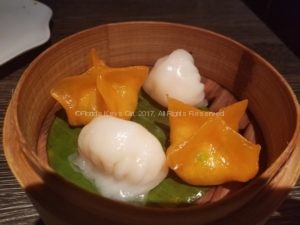 Every morsel of food served was not only delicious but stunning. Starting with the venison puff and the mushrooms spring roll with truffle, I knew we were in for a treat. By the time the shumai with chicken and Shanghai vegetable dumplings arrived, I knew we were someplace special. These dumplings are gorgeous, and they taste even better. We enjoyed several more courses, one of which had me asking FKGuy in disbelief "do dumplings always taste this good?" My dumpling experience has sadly been lacking until now, but I will make up for it on an upcoming trip to New York.
THE LAST EVENING IN LONDON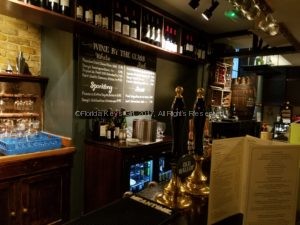 Stuffed, happy, and unable to feel my legs after four nonstop walking days, we headed back to Dukes for a much-needed nap. Refreshed, but not quite dinner time, a stop at Davy's Wine Merchants was in order. This old bar, established in 1870, and just around the corner from our hotel, became a perfect choice for a glass of champagne. With so many cocktail choices, I am glad we didn't stop in until our last day in London, or we may have been back every day, missing out on some other wonderful places.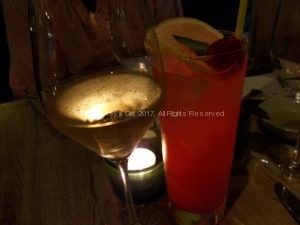 I had decision fatigue and tasked FKGuy with choosing a dinner restaurant. Lorne was his choice, and it was perfect. Tiny, even by London standards, and crowded, the inviting atmosphere set the tone for a casual and incredible evening. I started with the aperitif of the day (and I knew I loved this restaurant as they have a changing aperitif of the day), while FKGuy enjoyed a glass of champagne.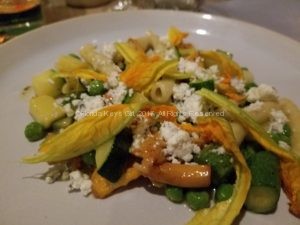 My appetizer portion of pasta (not on the menu, but they gladly accommodated my request) was simply one of the best pasta dishes I have ever had. Bucatini with peas, girolle mushrooms ( a new favorite), zucchini, and goat cheese, came presented beautifully and tasted delicious. FKGuy had the duck liver parfait, and while I am not generally a fan of organ meat of any kind, this one was creamy and delicious. I am fairly certain there was more heavy cream than anything else in the dish. The entrees did not disappoint, either, with perfectly cooked cod and lamb. A cheese plate rounded out the meal, as we strolled back to Dukes for one last sleep before the next leg of the trip: Amsterdam.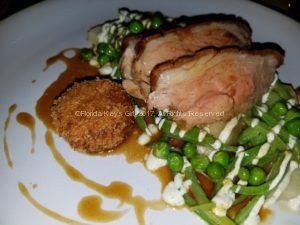 Highlights of Our Eating, Drinking, and Wanderings Over Four Days in London
Dukes Hotel, a perfect location, great service, and charming, yet pricey bar.
Restaurants (all worth a visit, or maybe more than one)
Cocktail and Wine Bars (also all worth a visit)
Must-See Sights (since you need something to do between meals)
Hyde Park