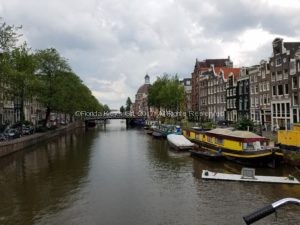 I could spend a month wandering the streets of Amsterdam, strolling along the canals and soaking up the ambiance. Unfortunately, I only had two days in Amsterdam, so we had to pack a lot into a short time. We somehow made an earlier than anticipated flight from London and were checked into the INK hotel by 11 AM.
A quick walk, bite to eat, and we met our friend at the Anne Frank House.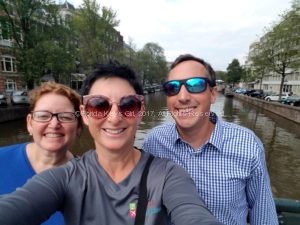 PRO TIP: Book advance tickets to the Anne Frank House. Otherwise, you'll be in line for several hours, and won't be able to visit until after 3 PM. Tickets go on sale precisely sixty days in advance.
The line for non-tickets holders wrapped around the church next door, and meandered through the street. While I found it heartwarming that so many people want to visit the Anne Frank House and experience this part of an unpleasant history, I was also glad we had thought ahead.
The museum is compact, and the Secret Annex where the Frank family hid from the Nazis is up a tight staircase. This museum is not for the mobility-challenged, but it is an essential part of any visit to Amsterdam. Go. Learn more about the Holocaust. Listen to the audioguide. Prepare to be heavily impacted by what you see. But do plan ahead.
After our somber visit, we meandered back to the hotel for a few minutes before our 4:30 PM food tour, and to hopefully find my parents that had missed their connecting flight. Guest rooms at the INK Hotel are covered in graffiti-style artwork, with maps of Amsterdam and helpful tidbits. Our wall sported a useful mnemonic device for remembering the order of the canals that sprawl outward in half circles: Peter Knows His Shit. The four main canals, from innermost to outer, are Prinsengracht, Keizersgracht, Herengracht, and Singel. See? That's useful stuff. It was even handier than the in-room Nespresso machine.
Eating Amsterdam: Fish, Pie, and Beer (and more)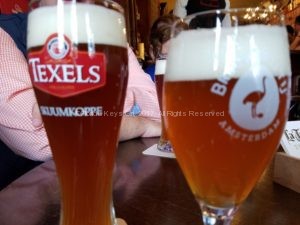 The folks at Eating Amsterdam worked with me to set up a private tour for seven of us, most of whom arrived in Amsterdam that day. We gathered in the lobby and met our guide. And my parents? They checked in around 4:25 and somehow made the tour.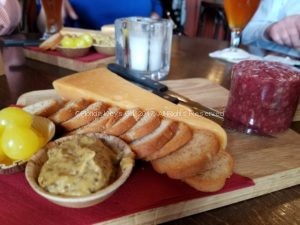 Our delicious adventure took us through small streets, quaint neighborhoods, and left us full and happy. Our first stop included Dutch beef sausage and several different aged Gouda cheeses. Complete with a local beer, the first stop perfectly kicked off the tour. From there we meandered through the Jordaan district to a fish shop for herring, eel, and excellent fried fish. I tried many things on this trip that I normally would not eat, like the herring (delicious, and bearing no resemblance to the white stuff from a jar my grandfather used to eat) and the eel (not my thing, but I tried).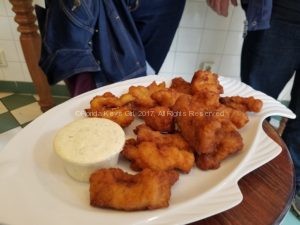 Did you know that the Dutch traded New York for Suriname? I didn't either, and it doesn't seem like a particularly good trade. However, it gave way to many Surinamese people in Amsterdam. The next stop was a minuscule takeout joint where the owner served us Surinamese chicken skewers and warned that the hot sauce was absurdly hot. Finally, we made it to a bar, complete with giant slices of homemade, not-too-sweet, apple pie and even more beer. Our guide shared insights, fun city facts, and a good dose of humor along the way.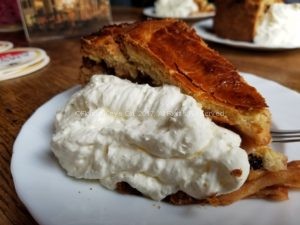 By 7:30 PM exhaustion set in for the people that had flown overnight and they headed back to the hotel. FKGuy, one of our friends, and I moseyed to the central station and hopped on a canal cruise. If the weather is good, a canal cruise gives a great overview of the city, complete with guide, and photo ops. Finishing off the night, we made our way to Tales and Spirits, a craft cocktail bar, for unique cocktails. The dark, crowded, bar has a lot of rules, like: you have to hang your jacket on a coat rack at the entrance. No coats draped over chairs here. Odd, but those are the rules, and the cool vibe and fun drinks make it worth adhering to them.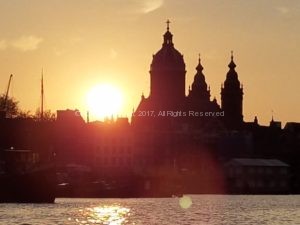 While that may seem like a lot to cram into a visit, it is only half of my two days in Amsterdam. Day two was even busier. More in the next post on the Rijksmuseum, Rijstaffel,  Van Gough, and Foodhallen. (Yes, it is as awesome as it sounds.)