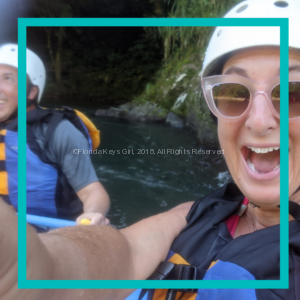 Getting to Pacuare Lodge is a big part of the adventure. Our day started with a 6 AM pickup from our hotel, Grano de Oro in San Jose, Costa Rica. We traversed the city, and after about an hour stopped for a traditional Costa Rican breakfast of gallo pinto.
Gallo pinto is a rice and beans mixture, served with eggs, fried cheese, and plantains. It is a lot for early in the morning, but apparently, one needs strength to raft into the lodge. We enjoyed a leisurely breakfast and then continued on the journey.
After another hour or so, we entered private property, and continued twenty minutes down a bumpy dirt road until we reached the river. We saw a bunch of companies getting people outfitted for their day trips on the river, and as we arrived our driver gave us some information and pointed out the bathrooms. "They are a little rough, but if you have to go," he said. I've gone in worse places, but yes, they were a little rough for sure.
Ready for action, we met the guides that would take us to Pacuare Lodge and received a safety briefing. With us in the raft we had a guide, and there was also a kayaker along for added safety. We were in capable hands as we embarked on the whitewater raft trip. After having only done this once, about fifteen years earlier, the safety briefing was quite important.
An hour of relatively easy paddling and class I – II rapids, with a few class III rapids thrown in to make sure we were paying attention, was exhilarating (also, the water is incredibly cold for this Floridian, so that may be part of the excitement). Greeted with fresh fruit smoothies, and escorted to our room where our luggage was already waiting for us, our arrival could not have been easier.
THE SUITES
There are several suite types at Pacuare, from the Garden Suites (670 square feet of spacious comfort, with a private terrace), River View Suites (nearly 1,000 square feet of spaciousness with great river views and a private terrace), and Linda Vista Villas (more on that in a moment). The Jaguar Villa is the grandest of all with over 3,700 square feet of space, two bathrooms, a private pool, and a bridge and tree platform overlooking the river.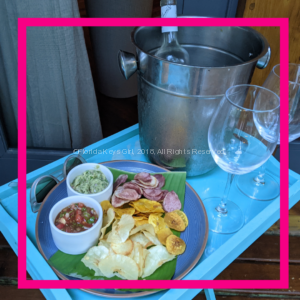 We stayed in Nutria, which means otter, a Linda Vista Villa, and it was spectacular. With almost 2,500 square feet of space, the villa is nothing short of spectacular. Our villa had a spacious bedroom, living room, huge bathroom complete with indoor and outdoor showers, and an amazing deck. Outside space boasts a soaking tub with a river view, a private infinity pool, chaise loungers, and a swing perfect for reading or enjoying a cup of coffee. I never wanted to leave.
A couple of things to note about Pacuare Lodge: this is a glamping experience. Yes, it is luxurious, but you are in the jungle, and that means things are different than more urban environments. There is no air conditioning here, but the screened windows (there is no glass), and ceiling fans make for extremely comfortable sleeping temperatures. The lodge generates its own electricity, so there is not an excess of electricity. Don't even think of operating a hair dryer. Also, things like a morning cappuccino may not be possible if there is not quite enough electricity to operate the machine. To me, these are quite minor issues and, frankly, part of the charm. Nonetheless, they are things you should know if you are planning a visit.
HOW IS THE FOOD?
Delicious! We arrived, somehow hungry after that huge breakfast en route, to a fantastic lunch. Before embarking on the rafting adventure, we were told about the lunch choices, and asked to choose so the chef could adequtely prepare. Each day at breakfast and lunch we were given several options for the following meal, and we made our choices in advance.
Meals were multi-course events, and overall, delicious. With many dishes to choose from, and excellent service, you will not go hungry. Meals are included in the room rate, though alcoholic drinks are additional. The "wine list" comes in the form of a trip into the cellar to pick a bottle. Mixed drinks are also available at the upstairs bar, and if you are hungry after an afternoon activity, but before dinner, some snacks can magically appear in your room.
WHAT IS THERE TO DO?
Included activities at Pacuare Lodge can be a hike to a waterfall (excellent), ziplining (only one person did this, and it was not me), canyoneering and more. We opted for a shorter hike the first afternoon and a longer hike the following morning. Our long hike was nearly four hours of steep, sometimes muddy, mountain terrain, and may have been the hardest hike I have ever done. It was exhausting and worth every bit of mud that is still clumped on my shoes.
For the less active, Pacuare Lodge also offers a full-service spa. I can say firsthand that after a long hike a massage is always a good idea. In the late afternoon, a presentation on jaguars is offered, for a chance to learn all about this incredible animal.
LEAVING BY RAFT
We left the lodge the same we arrived: by raft. Our luggage took the car service out, but we went the more adventurous route. Coming in was about an hour on the water, while leaving would be three hours over class III and IV rapids. Because the rapids are stronger going out, we had two guides in the raft along with a kayaker. Safety first.
I felt completely at ease with our wonderful guides, and those class IV rapids are no joke. We paddled and bounced around in the water, enjoying every minute of the morning. About two hours in, we made a stop along the way for some snacks. Even after leaving the lodge, they do not let you go hungry. They sent us wraps, fruits, and iced tea for our riverside picnic – a wonderful way to end the trip.
If you are thinking of going to Costa Rica, I highly recommend it. We work with only the best people in the country and can create the vacation of a lifetime for you.